Episode 3 – Regnum Novum: Bringing forth the New Evangelization through Catholic Social Teaching with Omar Guiterrez -Value # 3 – Look , Judge, Act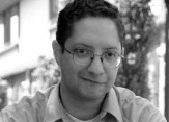 Discerning Hearts is blessed to present Omar F. A. Guiterrez, M.A. , Special Assistant  to Archbishop George Lucas of the Archdiocese of Omaha, in a groundbreaking series which breaks open the heart of  Catholic Social Doctrine.
We encourage you to visit "Regnum Novum – A New Kingdom: A Revolution" Omar Guiterrez's blog site
We live at a very special time. The confluence of many things has brought forth the clear need to be able to articulate the Social Teaching of the Catholic Church in a way that is accessible and applicable. This is not to be an effort where high-minded theories are to be bandied about. Rather, this is a time of opportunity wherein we can apply the Social Doctrine to the concrete so as to bring about a New Kingdom, a Revolution. – Omar G. from Regnum Novum
Podcast: Play in new window | Download (Duration: 28:00 — 64.1MB) | Embed

Subscribe: Google Podcasts | Spotify | Amazon Music | Android | Pandora | iHeartRadio | Stitcher | Podcast Index | Email | TuneIn | RSS | More



3.  Look, Judge, Act
Blessed Pope John XXIII gave us this practical suggestion in his letter Mater et magistra. The Social Doctrine provides us with principles for reflection, criteria for judgment, and directives for action. Social justice is supposed to be lived out in our every day. That's the point, and so this Holy Father gave us the paradigm.
Look at the world around you, that which is most immediate to you. Start with your family. Proceed to your culture. Witness the social and economic realities/policies near you. Know the political landscape of your city, county, state, and nation. See your neighbors close at hand and around the world. Use the principles of the Social Teaching as you look so that you know what to look for.
Judge what is best for the family, for the culture, for the society and the economy, for the state, for the world. Use the criteria provided by the Social Doctrine. What is missing? Why is it missing? What can be done?
Act on it. You're a lay person with as real an obligation to evangelization as any priest. Do something in the world so as to make it's semblance more like that which the Lord desires. Volunteer. Participate. Pray. Do not let some tell you that prayer is not action. Pray. You can pray and raise good children.
Also visit Omar's "Discerning Hearts" page Catholic Social Teaching 101