Podcast: Play in new window | Download (Duration: 3:16 — 4.5MB) | Embed
Subscribe: Apple Podcasts | Google Podcasts | Spotify | Amazon Music | Android | Pandora | iHeartRadio | Stitcher | JioSaavn | Podchaser | Gaana | Podcast Index | Email | TuneIn | Deezer | Anghami | RSS | More
Day 7: SURRENDER
St. Teresa you have said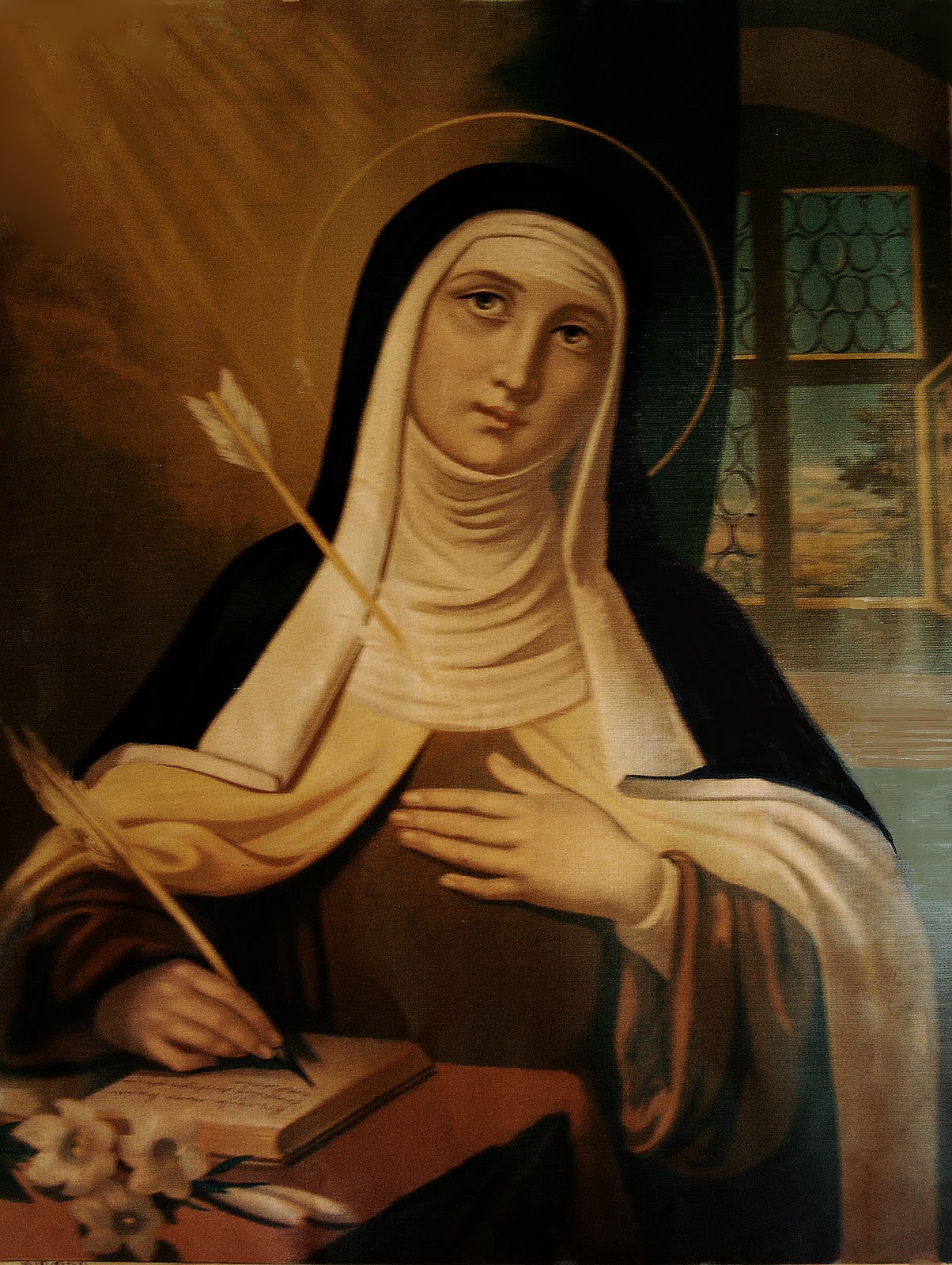 Myself surrendered and given,
The exchange is this:
My Beloved is for me,
And I am for my Beloved.
When the gentle Hunter
Wounded and subdued me,
In love's arms,
My soul fallen;
New life receiving,
Thus did I exchange
My Beloved is for me,
And I am for my Beloved.
The arrow he drew
Full of love,
My soul was made one
With her Creator.
Other love I want not,
Surrendered now to my God,
That my Beloved is for me,
And I am for my Beloved.

—On Those Words "Dilectus Meus Mihi"
This beautiful poem is the result of Teresa's reflection on Songs 2:16: "My Beloved belongs to me and I to him." In her verse, she expresses a fundamental truth of the interior journey: God himself initiates and sustains the relationship, and invites us to surrender to Him in faith.  Our efforts of self-renunciation, sacrifice, and humility about which Teresa constantly discusses in her writings are our personal response to this love.  In renouncing ourselves, we allow the Lord to unite us to Himself.
Let us not tire of making our sacrifices of love, but instead take courage, sure in the knowledge that we are already loved.
St. Teresa speaks to us today saying:
"Christ has no body now but yours.
No hands, no feet on earth but yours.
Yours are the eyes through which he looks compassion on this world.
Yours are the feet with which he walks to do good.
Yours are the hands through which he blesses all the world.
Yours are the hands, yours are the feet, yours are the eyes, you are his body.
Christ has no body now on earth but yours."
O God, who through your Spirit
raised up Saint Teresa of Jesus
to show the Church the way to seek perfection,
grant that we may always be nourished
by the food of her heavenly teaching
and fired with longing for true holiness.
Through our Lord Jesus Christ, your Son,
who lives and reigns with you in the unity of the Holy Spirit,
one God, for ever and ever.
St. Teresa, pray for us:
That we may become worthy of the promises of Jesus Christ.
reflection written by Fr. Emiel Albalahin, O.Carm. Used by permission via the  Curia Generalizia dei Carmelitani  Please visit http://www.ocarm.org/en/
The prayer offered by Dr. Matthew Bunson and Kris McGregor
Audio versions of the "Interior Castle" and "The Way of Perfection" by St. Teresa of Avila