Day 2  INTIMATE AND TRANSFORMATIVE PRAYER
Podcast: Play in new window | Download (Duration: 3:36 — 5.0MB) | Embed
Subscribe: Google Podcasts | Spotify | Amazon Music | Android | Pandora | iHeartRadio | Stitcher | Podcast Index | Email | TuneIn | RSS | More
St. Teresa you have said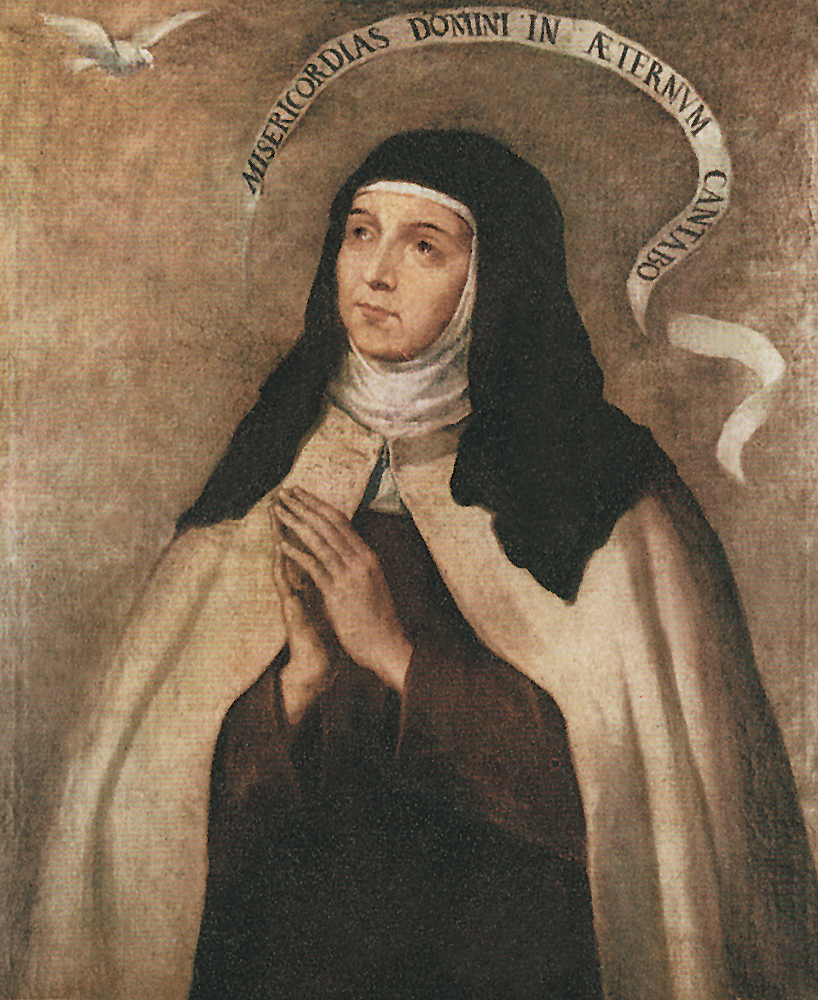 "Whoever has not begun the practice of prayer, I beg for the love of the Lord not to go without so great a good.  There is nothing here to fear but only something to desire…And if one perseveres, I trust then in the mercy of God, who never fails to repay anyone who has taken him for a friend.  For mental prayer, in my opinion, is nothing else than an intimate sharing between friends; it means taking time frequently to be alone with Him who we know loves us.  In order that the love be true and the friendship endure, the wills of the friends must be in accord."

—Autobiography VIII.5
On September 27, 1970, Pope Paul VI proclaimed Teresa a doctor of the Church. In his address, the Pope celebrated Teresa's gift of spiritual doctrine, a fact underlined by the title written on her statue in the basilica in Ávila: Mater Spiritualium (the Mother of Spirituality). She certainly merits this title.
Her writings are not theoretical abstracts, but concrete lessons drawn from her own experience and interaction with the Divine. In entering the struggle of spiritual growth, she came to discover some very important truths about the process of prayer, the truth of God and the realization of self in this context. She realized in a very real and personal way Jesus' words: "I call you friends."
Learning from Teresa, let us make ample space for prayer, taking time and having the courage to open ourselves to all of the possibilities that lie open to us when we enter this deep and profound relationship, including our own transformation in God and His love.
 St. Teresa speaks to us today saying:
 "May today there be peace within.
May you trust God that you are exactly where you are meant to be.
May you not forget the infinite possibilities that are born of faith.
May you use those gifts that you have received, and pass on the love that has been given to you.
May you be content knowing that you are a child of God.
Let this presence settle into your bones, and allow your soul the freedom to sing, dance, praise, and love.
It is there for each and every one of you."

O God, who through your Spirit
raised up Saint Teresa of Jesus
to show the Church the way to seek perfection,
grant that we may always be nourished
by the food of her heavenly teaching
and fired with longing for true holiness.
Through our Lord Jesus Christ, your Son,
who lives and reigns with you in the unity of the Holy Spirit,
one God, forever and ever.
St. Teresa, pray for us:
That we may become worthy of the promises of Jesus Christ.
reflection written by Fr. Emiel Albalahin, O.Carm. Used by permission via the  Curia Generalizia dei Carmelitani  Please visit http://www.ocarm.org/en/
The prayer offered by Dr. Matthew Bunson and Kris McGregor
Audio versions of the "Interior Castle" and "The Way of Perfection" by St. Teresa of Avila