Discerning Hearts is a part of the  MARY of NAZARETH Blog Tour/Rosary Crawl, of which we are delighted to be a part of, along with many other inspiring bloggers. To learn more, CLICK HERE.
Here is a clip from the movie which features the "mystery" surrounding the events of the "VISITATION" –
How extraordinary this moment is, especially as seen in this film!  So often in movie depictions of the "Visitation", we see only the two women coming together in a private encounter.  But in "Mary of Nazareth", not only does Mary and Elizabeth share a heavenly revelation with each other, but they joyfully share this "good news" with everyone around them.    Elizabeth freely "expresses" what the Holy Spirit has revealed, Mary joyfully "proclaims" the glory of the Lord to the seeking hearts caught witnessing the moment!  This is "Evangelization" at its finest!  This "communication" really becomes a time of "communion" for those who have ears to hear, and eyes to see.   Hope, Faith, and Love, all are captured so beautifully in this scene.   Mary's "Magnificat" becomes a glorious expression of faith which touches the hearts that surround her.  Oh, and that lovely touch  which gives us Elizabeth and her unborn child as the first in that "communion" line to embrace Christ in the womb of the Mother is truly priceless.
Second Joyful Mystery: The Visitation
"In those days Mary arose and went with haste into the hill country, to a city of Judah, and she entered the house of Zechariah and greeted Elizabeth. And when Elizabeth heard the greeting of Mary, the babe leaped in her womb; and Elizabeth was filled with the Holy Spirit and she exclaimed with a loud cry, 'Blessed are you among women, and blessed is the fruit of your womb!"' (Lk 1:39-42).
"Mary's visitation to Elizabeth thus became a visit from God to his people" (CCC, 717).
Our Father, 10 Hail Marys (contemplating the mystery), Glory be to the Father.

  Alissa Jung shared with us her experience of portraying the Blessed Virgin Mary in this film:
Download 
(right click & choose "Save Link As")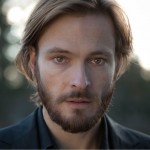 Andreas Pietschmann, who portrays Jesus in the film, took time to share with us he experience filming "Mary of Nazareth":
Podcast: Play in new window | Download (Duration: 23:21 — 10.7MB) | Embed
Subscribe: Google Podcasts | Spotify | Amazon Music | Android | Pandora | iHeartRadio | Stitcher | Podchaser | Podcast Index | Email | TuneIn | RSS | More
  Stunning in it's beauty, breathtaking in it's scope!  "
Mary

of

Nazareth

" is simply a joy for the heart. This is the film Catholics in particular have been waiting for.  This is the Blessed Mother we have come to know in our hearts and the depiction that we want not only our families and friends to see, but all the whole world as well.  A joy-filled expression of faith, hope and love.  The

Mary

of this film is no "pouty teenager" or "hapless victim of circumstance" as she is too often portrayed in film and television today. No, this is our

Mary

, who says with trust a glorious  "Fiat" to the will of the Father.  This work, with it's gorgeous cinematic qualities and touching performances, is worthy to honor the one who would say "I am the Handmaid of the Lord".

Kris McGregor, of Discerning Hearts
We at Discerning Hearts encourage you to check out tomorrow's clip at "Stuart's Study"   Stuart Dunn will bring us the "Presentation".