Chilling and very sobering is the story communicated in "The Global War on Christians: Dispatches from the Front Lines of Anti-Christian Persecution" written by veteran Vatican reporter John L. Allen, Jr.   It is a wake up call for Christians in the West,  who for the most part enjoy a relatively safe existence compared to our brothers and sisters in the faith who live in an incredibly dangerous world.  John Allen chronicles with exhaustive statistics, from numerous countries, the scope of "martyrdom" and persecution that exists for the 21st century Christian. Imprisoned, harassed, attacked, and killed because of their faithful expression of Christianity, Christians  around the world are targets.  He exposes many  of the myths surrounding the issue such as  "It's all about Islam", "No one saw it coming", "It's only persecution if the motives are religious" and more.  Why are we not hearing about this in the secular media, but more importantly, why are we not hearing about this in our own churches?  The end to the deafening silence must come now.  An important work not to be missed.
Podcast: Play in new window | Download (Duration: 27:44 — 25.4MB) | Embed
Subscribe: Apple Podcasts | Google Podcasts | Spotify | Amazon Music | Android | Pandora | iHeartRadio | Stitcher | JioSaavn | Podchaser | Gaana | Podcast Index | Email | TuneIn | Deezer | Anghami | RSS | More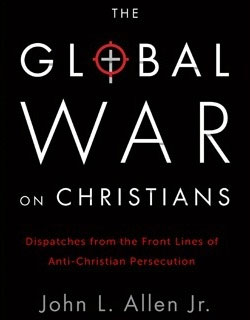 You can find the book here
From the book description:
From Iraq and Egypt to Sudan and Nigeria, from Indonesia to the Indian subcontinent, Christians in the early 21st century are the world's most persecuted religious group. According to the secular International Society for Human Rights, 80 percent of violations of religious freedom in the world today are directed against Christians. In effect, our era is witnessing the rise of a new generation of martyrs. Underlying the global war on Christians is the demographic reality that more than two-thirds of the world's 2.3 billion Christians now live outside the West, often as a beleaguered minority up against a hostile majority– whether it's Islamic fundamentalism in the Middle East and parts of Africa and Asia, Hindu radicalism in India, or state-imposed atheism in China and North Korea. In Europe and North America, Christians face political and legal challenges to religious freedom. Allen exposes the deadly threats and offers investigative insight into what is and can be done to stop these atrocities.