Podcast: Play in new window | Download (Duration: 4:40 — 4.3MB) | Embed
Subscribe: Apple Podcasts | Google Podcasts | Spotify | Amazon Music | Android | Pandora | iHeartRadio | JioSaavn | Podchaser | Gaana | Podcast Index | Email | TuneIn | Deezer | Anghami | RSS | More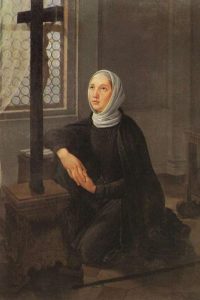 From the Spiritual Testament by Saint Angela Merici, virgin
"He has disposed all things pleasantly"
Mothers and sisters most dear to me in Christ: in the first place strive with all your power and zeal to be open. With the help of God, try to receive such good counsel that, led solely by the love of God and an eagerness to save souls, you may fulfil your charge.

Only if the responsibilities committed to you are rooted firmly in this twofold charity will they bear beneficial and saving fruit. As our Saviour says: A good tree is not able to produce bad fruit.

He says: A good tree, that is, a good heart as well as a soul inflamed with charity, can do nothing but good and holy works. For this reason Saint Augustine said: Love, and do what you will, namely, possess love and charity and then do what you will. It is as if he had said: Charity is not able to sin.

I also beg you to be concerned about every one of your daughters. Bear them, so to speak, engraved upon your heart – not merely their names, but their conditions and states, whatever they may be. This will not be difficult for you if you embrace them with a living love.

Mothers of children, even if they have a thousand, carry each and every one fixed in their hearts, and because of the strength of their love they do not forget any of them. In fact, it seems that the more children they have the more their love and care for each one is increased. Surely those who are mothers in spirit can and must act all the more in the same way, because spiritual love is more powerful than the love that comes from a blood relationship.

Therefore, mothers most dear to me, if you love these your daughters with a living and unaffected charity, it will be impossible for you not to have each and every one of them engraved upon your memory and in your mind. I beg you again, strive to draw them by love, modesty, charity, and not by pride and harshness. Be sincerely kind to every one according to the words of our Lord: Learn of me, for I am meek and humble of heart. Thus you are imitating God, of whom it is said: He has disposed all things pleasantly. And again Jesus said: My yoke is easy and my burden is light.

You also ought to exercise pleasantness toward all, taking great care especially that what you have commanded may never be done by reason of force. For God has given free will to everyone, and therefore he forces no one but only indicates, calls, persuades. Sometimes, however, something will have to be done with a stronger command, yet in a suitable manner and according to the state and necessities of individuals; but then also we should be impelled only by charity and zeal for souls.
Excerpts from the English translation of The Liturgy of the Hours (Four Volumes) © 1974, International Commission on English in the Liturgy Corporation. All rights reserved.