Podcast: Play in new window | Download (Duration: 3:13 — 2.2MB) | Embed
Subscribe: Google Podcasts | Spotify | Amazon Music | Android | Pandora | iHeartRadio | Stitcher | Podchaser | Podcast Index | Email | TuneIn | RSS | More
Day 1: Mary, Full of Grace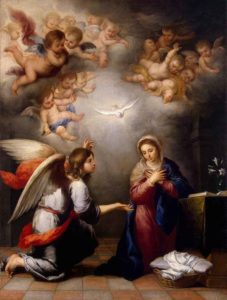 From the Gospel according to Luke 1:28
In the sixth month, the Angel Gabriel was sent from God to a town of Galilee called Nazareth. He was sent to a young virgin who was betrothed to a man named Joseph, of the family of David: and the virgin's name was Mary. The Angel came to her and said, Rejoice, Full of Grace! 
Let us pray:
Almighty Father, all-powerful and ever-living God, we thank You for bestowing upon Your highly favored daughter all the graces to be Your Son's Mother and to be the Mother of all. We thank You for sending Your Son Jesus Christ to be our redeemer and savior. Thank You for giving us the breath of life and the splendor of Your creations. We thank You, Father, our Lord, and our God, for Your infinite kindness and mercy. How good You are to us, your children. We praise you and worship you, with Your Son, Jesus Christ, and his Mother Mary, our intercessor. To You, we owe everything. We acknowledge humbly that without You, we are nothing. Receive our gratitude and our undying adoration and devotion. We will try to reciprocate Your loving kindness by obeying Your commandments, by loving our neighbors and by earnestly endeavoring to become more like Your Son. We shall continuously affirm Your lordship and celebrate Your goodness and kindness all the days of our life.
Amen.
Jesus, for our salvation You willingly humbled Yourself, becoming Man in the womb of the Virgin Mother, grant me through the mystery of Your holy Incarnation the virtue of humility that I may ever please God as Your Mother did, by meekness and lowliness in this world, and be exalted by You in eternity.
Mary, dear Mother of my Savior, I greet you and I thank you for having received the message of the Archangel Gabriel: "Hail, full of grace, the Lord is with thee" (Luke I:28) and for having answered with your consent, "Behold the handmaid of the Lord, be it done to me according to thy word." (Luke 1:38) Intercede for me that God the Father, who accepted you as His Daughter and the Mother of His Son because of your humility at the Annunciation, may accept me as His humble child. Amen