Conference 4 – The Trinitarian Reality of Self-Giving Love /w Msgr. Esseff & Sr. Cor Immaculatum Heffernan – Discerning Hearts Online Retreat
Podcast: Play in new window | Download (Duration: 47:04 — 32.3MB) | Embed
Subscribe: Apple Podcasts | Google Podcasts | Spotify | Amazon Music | Android | Pandora | iHeartRadio | Stitcher | JioSaavn | Podchaser | Gaana | Podcast Index | Email | TuneIn | Deezer | Anghami | RSS | More
Retreat Directors: Monsignor John A. Esseff and Sister Cor Immaculatum Heffernan, IHM
Conference Four
The Principle and Foundation/Discernment of Spirits
If a person is to be helped to make good choices or to reform his/her life, the "why" and the "wherefore" of creation must be clearly understood.
The true spiritual foundation of life is the acceptance of the truth that we were made to praise, reverence, and serve God. We are to choose only what God wants us to choose…to be "unrestrictedly ready for whatever God wants for us".
As the foundation of Judeo-Christian beliefs, traditions and laws, the Bible contains a range of stories that highlight humans' relationships with each other and with God. In many instances, biblical stories depict conflicts between the expectations of God and the actions of humankind. It is often within these stories of disobedience that significant lessons regarding actions and outcomes can be found.
All things on the face of the earth are created with a view to us; they are many proofs of the Creator's esteem and care for us. All things on the face of the earth have been created to help us, to be of service to us. This brings out the sovereignty of human beings over the whole of creation.
However, because of original sin, we are fallen creatures who are by no means able to handle well all created things. The only things that were left to Adam and Eve after their disobedience were human life and free will. Whatever has been made and given to us constitutes a potential danger – even good things like health, riches, honor, a long life.
Those who desire from their hearts to be united with the will of God, so as to
gain salvation, must of necessity serve God and His only begotten Son with their
whole minds and with an entire will. "Perfection is neither more nor less than the soul's faithful co-operation with God." (Jean Pierre De Caussade)
Discernment of Spirits
Galatians 5: 16 "If you are guided by the Spirit (Holy Spirit) you will be in no danger of yielding to self-indulgence…by their fruits you shall know them."
Discernment means to sift through, distinguish, separate and divide the interior movements that result from a lifelong relationship with God. It is the process of noticing, paying attention to one's feelings, thoughts, experiences, and relationships. Discernment is the process of distinguishing between/among two or more good paths, directions or choices. It is the disciplined inner work of an individual or group to sift through what is a private/personal good and what is the common good – for something greater than oneself.
St. Ignatius' Principles for Making Prayerful Decisions – 7 basic attitudes:
openness, generosity, courage, interior freedom, habit of prayerful reflection,
having one's priorities straight, not confusing ends with the means.
Fundamental Question:
What does God want of me? To find God's Will.
1 John 4: 1-6 In this text, John points out different spirits; one has to test
them to see if they come from God…to try to discern them.
John distinguishes the "world". He means there are two principles operating in a person: 1) true: God loves the world
2) false: language of the world, stressing what you do, not who you are…avoid suffering…you must succeed
…you must achieve…you cannot fail
GOOD —-EVIL Spirit. These are not entirely identified with the common
meanings. They may come from within or outside.
GOOD SPIRIT (interior or exterior) John: "Every spirit which acknowledges
that Jesus the Christ has come in the flesh…is from God."
EVIL SPIRIT (interior: Sum total of all refusal to love in the human condition
F(rom Adam to each one's personal history)
(exterior: false principles of the world
GOOD SPIRIT …moves us to Christ-centeredness
…moves us to self-sacrifice
…moves us to look constantly beyond self
…follows Christ's spirit: selflessness, openness, service
to others
…moves us to realize our need for salvation
…spirit of truth, spirit of love
EVIL SPIRIT …follows the devil's spirit, the false principles of the world
…self-indulgence
…self-centeredness
…selfishness
…turning in on oneself, anxiety, turmoil
FRUITS OF THE GOOD SPIRIT:
…love …gentleness
…joy …goodness
…peace …trustfulness
…patience …self-control
…kindness
THE EVIL SPIRIT brings:
…disagreement …turmoil
…jealousy …discouragement
…wrong-doing …anxiety etc.
In the process of discernment there are two basic assumptions:
1) There are 3 kinds of movement taking place in our being:
– my own thoughts and ideas
– these are influenced by the Good Spirit
– these are influenced by the Evil Spirit
2) We believe in the indwelling of the Holy Spirit; we are temples
of the Holy Spirit who:
…moves us to realize our need for salvation
…arouses in us a sense of sinfulness in the human situation grounded in
acceptance of the compassionate, loving God
…leads us to grateful acceptance of the redeeming love of Christ and the
power of His Spirit
When the Good Spirit, moving me from outside (e.g. Scripture, good example,
etc.) brings peace and harmony, then I am in tune with the Holy Spirit. Being
at peace and urged to love (go beyond self) are signs of the Good Spirit.
Movements of the spirit are not sins; they are just movements back and across
my being. We call them feelings, emotions, experiences.
Suggested Scripture passages for personal prayer and reflection:
Deuteronomy 30: 15-20
2 Corinthians 6: 14-16
Mark 12:30
---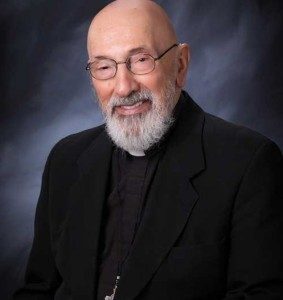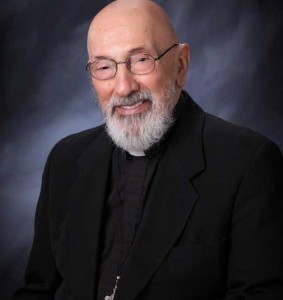 Msgr. John A. Esseff is a Roman Catholic priest in the Diocese of Scranton. He served as a retreat director and confessor to St. Teresa of Calcutta. He continues to offer direction and retreats for the sisters of the missionaries of charity.  He has lived in areas around the world, serving in the Pontifical missions, a Catholic organization established by St. Pope John Paul II to bring the Good News to the world especially to the poor. He is a founding member of the Pope Leo XIII Institute. He continues to serve as a retreat leader and director to bishops, priests and sisters and seminarians, and other religious leaders.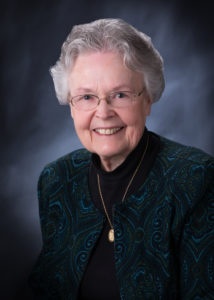 Sister Cor Immaculatum Heffernan, IHM is a member of the Sisters, Servants of the Immaculate Heart of Mary, Scranton, PA. " She holds several degrees: a Bachelor of Arts in English/Art and a Master of Science degree in Counseling, both from Marywood; a Master of Arts degree in Sculpture from the University of Notre Dame; and a Master of Fine Arts degree in Illustration from Syracuse University. Her multi-faceted life is in itself a masterpiece: she is a teacher, a mentor, and a consultant; she is a sculptor, a harpist, a calligrapher, and a creator of mosaics; she is a counselor, a spiritual director, and above all, she is a servant of God to others".