Podcast: Play in new window | Download (Duration: 6:30 — 6.0MB) | Embed
Subscribe: Apple Podcasts | Google Podcasts | Spotify | Amazon Music | Android | Pandora | iHeartRadio | JioSaavn | Podchaser | Gaana | Podcast Index | Email | TuneIn | Deezer | Anghami | RSS | More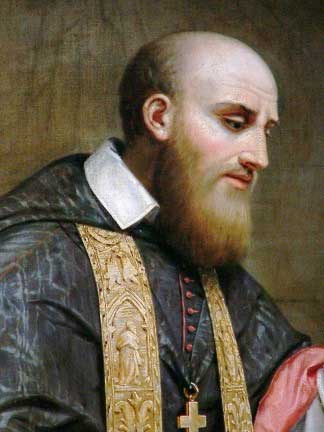 Introduction to the Devout Life
By
St. Francis de Sales
Chapter 9 – The First Mediation
read by Omar F. A. Guiterrez
For the pdf containing the complete text and footnotes click here
Other audio meditations from the Introduction of the Devout Life
Of Creation.

Preparation.
1. PLACE yourself in the Presence of God.
2. Ask Him to inspire your heart.

Considerations.
1. Consider that but a few years since you were not born into the world, and your soul was as yet non-existent. Where wert thou then, O my soul? the world was already old, and yet of thee there was no sign.
2. God brought you out of this nothingness, in order to make you what you are, not because He had any need of you, but solely out of His Goodness.
3. Consider the being which God has given you; for it is the foremost being of this visible world, adapted to live eternally, and to be perfectly united to God's Divine Majesty.

Affections and Resolutions.
1. Humble yourself utterly before God, saying with the Psalmist, O Lord, I am nothing in respect of Thee—what am I, that Thou shouldst remember me? O my soul, thou wert yet lost in that abyss of nothingness, if God had not called thee forth, and what of thee in such a case?
2. Give God thanks. O Great and Good Creator, what do I not owe Thee, Who didst take me from out that nothingness, by Thy Mercy to make me what I am? How can I ever do enough worthily to praise Thy Holy Name, and render due thanks to Thy Goodness?
3. Confess your own shame. But alas, O my Creator, so far from uniting myself to Thee by a loving service, I have rebelled against Thee through my unruly affections, departing from Thee, and giving myself up to sin, and ignoring Thy Goodness, as though Thou hadst not created me.