A Novena Prayer to St. Augustine
Podcast: Play in new window | Download (Duration: 1:59 — 1.8MB) | Embed
Subscribe: Apple Podcasts | Google Podcasts | Spotify | Amazon Music | Android | Pandora | iHeartRadio | JioSaavn | Podchaser | Gaana | Podcast Index | Email | TuneIn | Deezer | Anghami | RSS | More
Day 5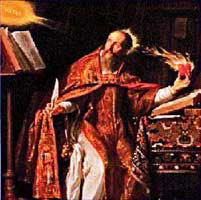 St. Augustine has written:
"A person who is a good and true Christian should realize that truth belongs to his Lord, wherever it is found, gathering and acknowledging it even in pagan literature, but rejecting superstitious vanities and deploring and avoiding those who 'though they knew God did not glorify him as God or give thanks but became enfeebled in their own thoughts and plunged their senseless minds into darkness. Claiming to be wise they became fools, and exchanged the glory of the incorruptible God for the image of corruptible mortals and animals and reptiles' [Rom. 1:21-3]"―(from "On Christian Doctrine")
Heavenly Father,
we turn to you now with the intentions we hold in our hearts,
as pray as St. Augustine has taught:
Spirit of wisdom and understanding,
enlighten our minds to perceive the mysteries
of the universe in relation to eternity.

Spirit of right judgment and courage,
guide us and make us firm in our baptismal decision
to follow Jesus' way of love.

Spirit of knowledge and reverence,
help us to see the lasting value of justice
and mercy in our everyday dealings with one another.

May we respect life
as we work to solve problems of family and nation,
economy and ecology.

Spirit of God,
spark our faith,
hope and love into new action each day.

Fill our lives with wonder and awe
in your presence which penetrates all creation.
Intercede for us, , St. Augustine
That God may favorably hear our plea
And that He may grant us the grace
To accept His will in all things,
Through Jesus Christ, our Lord,
In the unity of the Holy Spirit,
One God forever and ever.
Amen.