Wow…as a parent there could be nothing more difficult then the death of your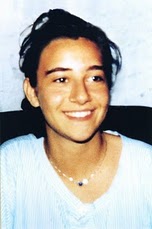 child, but then imagine being there for their beatification in Rome!  That has been the experience of Ruggero and Maria Teresa Badano.
The life and witness of Blessed Chiara Luce Badano is one not just for youth, but for us all!!!!
Maria Grazia Magrini, vice-postulator of Chiara Badano's cause for canonization, told ZENIT: "She put Jesus in the first place. She called him 'my spouse.'" 
As a young girl, she liked to sing, dance, play tennis and skate. She loved the mountains and the sea. "She also tried to go to Mass every day," said Magrini.
One day, at age 17, while playing tennis the adolescent felt an acute pain. Her mother recalled: "She returned home and was very pale. She went upstairs." 
The mother asked her: "Why did you come back, Chiara?" The youth explained, "Because during the match I felt such an sharp pain in my back that I dropped the racquet."
The pain worsened. Doctors soon discovered bone cancer. As the disease progressed, Badano faced repeated hospitalizations and increasing pain. She often repeated, "For you, Jesus. If you wish it, so do I!" 
Her mother still remembers when she came home after the first session of chemotherapy. She did not want to talk. Maria Teresa recalled: "I looked at her and I saw the expression on her face, all the struggle she was combating within herself to say her 'yes' to Jesus." After 25 minutes, she said to her mother "now you can talk."
Going to meet Jesus
Chiara underwent surgery, which was unsuccessful; from that moment she lost the use of her legs. 
According to her vice postulator, this young athlete, notwithstanding the very painful moment, exclaimed: "If I had to choose between walking or going to paradise, I wouldn't hesitate, I'd choose paradise."
At that time her friendship with Chiara Lubich, founder of the Focolare movement, who decided to call the youth Chiara "Luce" Badano, became very close.
She spent several months in agony, preparing for her encounter with Jesus. "The most beautiful moments were during the last summer," said her friend, Chicca. "She was motionless in her bed," she recalled. 
Magrini highlighted Chiara's attitude: "She didn't cry, didn't lament, she looked at the image of Jesus."
Chicca recalled how Chiara wished to prepare her own funeral: the songs of the Mass, the dress and hairdo: Everything was for her a celebration. The friend recalled, "She told me she wanted to be buried in a white dress, as a bride that goes to meet Jesus."
Chiara made one last exhortation to her mother: "When you dress me, you must repeat three times: Now Chiara is seeing Jesus." Chiara also asked that the cornea of her eyes be donated to two youths. 
She died on Oct. 7, 1990. Her last words to her mother were: "Be happy because I'm happy." – Zenit