Podcast: Play in new window | Download (Duration: 27:53 — 12.8MB) | Embed
Subscribe: Apple Podcasts | Google Podcasts | Spotify | Amazon Music | Android | Pandora | iHeartRadio | JioSaavn | Podchaser | Gaana | Podcast Index | Email | TuneIn | Deezer | Anghami | RSS | More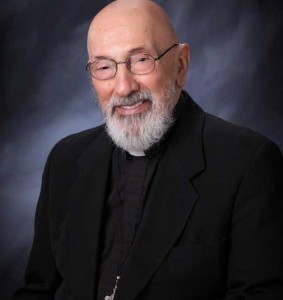 "On what side of the gulf will you be found?"
Msgr. Esseff reflects on the teaching of Jesus:
Gospel

Jesus said to the Pharisees:
"There was a rich man who dressed in purple garments and fine linen
and dined sumptuously each day.
And lying at his door was a poor man named Lazarus, covered with sores,
who would gladly have eaten his fill of the scraps
that fell from the rich man's table.
Dogs even used to come and lick his sores.
When the poor man died,
he was carried away by angels to the bosom of Abraham.
The rich man also died and was buried,
and from the netherworld, where he was in torment,
he raised his eyes and saw Abraham far off
and Lazarus at his side.
And he cried out, 'Father Abraham, have pity on me.
Send Lazarus to dip the tip of his finger in water and cool my tongue,
for I am suffering torment in these flames.'
Abraham replied,
'My child, remember that you received
what was good during your lifetime
while Lazarus likewise received what was bad;
but now he is comforted here, whereas you are tormented.
Moreover, between us and you a great chasm is established
to prevent anyone from crossing who might wish to go
from our side to yours or from your side to ours.'
He said, 'Then I beg you, father,
send him to my father's house, for I have five brothers,
so that he may warn them,
lest they too come to this place of torment.'
But Abraham replied, 'They have Moses and the prophets.
Let them listen to them.'
He said, 'Oh no, father Abraham,
but if someone from the dead goes to them, they will repent.'
Then Abraham said, 'If they will not listen to Moses and the prophets,
neither will they be persuaded if someone should rise from the dead.'"
Msgr. John A. Esseff is a Roman Catholic priest in the Diocese of Scranton.  He was ordained on May 30th 1953, by the late Bishop William J. Hafey, D.D. at St. Peter's Cathedral in Scranton, PA.  Msgr. Esseff served a retreat director and confessor to Blessed Mother Teresa.    He continues to offer direction and retreats for the sisters of the missionaries of charity around the world.  Msgr. Esseff encountered St.  Padre Pio,  who would become a spiritual father to him.  He has lived in areas around the world,  serving  in the Pontifical missions, a Catholic organization established by Bl. Pope John Paul II to bring the Good News to the world especially to the poor.  Msgr. Esseff assisted the founders of the Institute for Priestly Formation and continues to serve as a spiritual director for the Institute.  He continues to  serve as a retreat leader and director to bishops, priests and sisters and seminarians and other religious leaders around the world.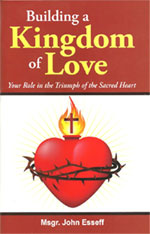 To obtain a copy of Msgr. Esseff's book byvisiting here
Be sure to visit Msgr. Esseff's website "Building a Kingdom of  Love"