Podcast: Play in new window | Download (Duration: 28:53 — 52.9MB) | Embed
Subscribe: Apple Podcasts | Google Podcasts | Spotify | Amazon Music | Android | Pandora | iHeartRadio | Stitcher | JioSaavn | Podchaser | Gaana | Podcast Index | Email | TuneIn | Deezer | Anghami | RSS | More
Msgr. Esseff reflects on the dangers of doing "good work" without having the depth of the contemplative prayer that unites us to Christ in doing the will of the Father.  He offers insight primarily from the teachings found in the letter from St. James Chap 1:
Humbly welcome the word that has been planted in you
and is able to save your souls.
Be doers of the word and not hearers only, deluding yourselves.
Religion that is pure and undefiled before God and the Father is this:
to care for orphans and widows in their affliction
and to keep oneself unstained by the world.  – NAB
As well as the Gospel of Mark Chap 7:
He responded,
"Well did Isaiah prophesy about you hypocrites, as it is written:
This people honors me with their lips,
but their hearts are far from me;
in vain do they worship me,
teaching as doctrines human precepts.
You disregard God's commandment but cling to human tradition."
He summoned the crowd again and said to them,
"Hear me, all of you, and understand.
Nothing that enters one from outside can defile that person;
but the things that come out from within are what defile.
"From within people, from their hearts,
come evil thoughts, unchastity, theft, murder,
adultery, greed, malice, deceit,
licentiousness, envy, blasphemy, arrogance, folly.
All these evils come from within and they defile." – NAB
Msgr. John A. Esseff is a Roman Catholic priest in the Diocese of Scranton.  He was ordained on May 30th 1953, by the late Bishop William J. Hafey, D.D. at St. Peter's Cathedral in Scranton, PA.  Msgr. Esseff served a retreat director and confessor to Blessed Mother Teresa.    He continues to offer direction and retreats for the sisters of the missionaries of charity around the world.  Msgr. Esseff encountered St.  Padre Pio,  who would become a spiritual father to him.  He has lived in areas around the world,  serving  in the Pontifical missions, a Catholic organization established by Bl. Pope John Paul II to bring the Good News to the world especially to the poor.  Msgr. Esseff assisted the founders of the Institute for Priestly Formation and continues to serve as a spiritual director for the Institute.  He continues to  serve as a retreat leader and director to bishops, priests and sisters and seminarians and other religious leaders around the world.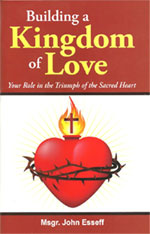 To obtain a copy of Msgr. Esseff's book byvisiting here
Be sure to visit Msgr. Esseff's website "Building a Kingdom of  Love"