Podcast: Play in new window | Download (Duration: 33:35 — 23.2MB) | Embed
Subscribe: Apple Podcasts | Google Podcasts | Spotify | Amazon Music | Android | Pandora | iHeartRadio | Stitcher | JioSaavn | Podchaser | Gaana | Podcast Index | Email | TuneIn | Deezer | Anghami | RSS | More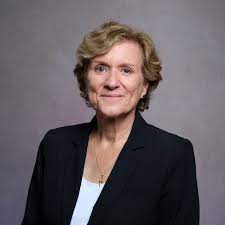 Almsgiving and Atonement – Atonement: Soundings in Biblical, Trinitarian, and Spiritual Theology
Discerning Hearts presents a series of conversations between Dr. Margaret Turek and Evan Collins about her book, "Atonement: Soundings in Biblical, Trinitarian, and Spiritual Theology."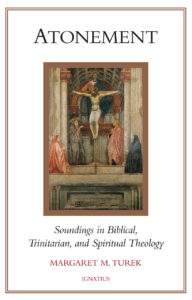 You can pick up a copy of the book here:
An excerpt from the book:
"In this chapter, we focused our attention on the Old Testament and traced the gradually emerging pattern of a process of atonement that is patrogenetic: it originates from and is engendered by God's own power to love. God exercises his power against sin in such a way that human freedom is not merely bypassed by a one-sided forgiveness. God's power is a forgiving power, but it takes full effect in his chosen beloved only by engendering a response of repentant love that willingly bears sin's consequences. The sinner turns back to God with filial love (regenerated by God; in this respect God is near), such that now he endures the effects of sin (principally distance from God) in filial love-suffering, and by bearing this sin-wrought distance, he turns sin around: away from a refusal of filiation to an occasion of asserting it. Atonement is a work of sonship that "cleanses" from sin by transforming sin into its opposite: nearness to God in the filial love-suffering of distance from God. Hence God's generative (fore-giving) love brings about a union between himself and his beloved that takes the form of a shared willingness in love to suffer through and transform the separation wrought by sin, thereby enabling his beloved to fulfill his vocation as the image of God's glory in this "fallen" world.As we arrive at the threshold to the New Testament, the main lines of our sketch point toward a convergence in the atoning mission of God's Son incarnate. Yet this point of convergence cannot be foreseen by reason alone. "It remains an 'utterly strange work' (Is 28:21), an 'offence' (Is 8:14), 'something unheard-of' (Is 52:15)."155 All the same, the constellation of features presented here may indicate a hidden "theo-logic" that can cast a penetrating light on the transition from the Old Testament to the New. We will continue our attempt at uncovering this "theo-logic" in our next chapter on the Cross as atonement, and in the process illuminate the Cross event in view of its closeness to and distance from the old covenant history of eliminating sin."

Turek, Margaret. Atonement: Soundings in Biblical, Trinitarian, and Spiritual Theology (pp. 74-75). Ignatius Press. Kindle Edition.
---
From the book's description:
"This book presents the chief insights concerning the mystery of atonement in the works of four theological guides: John Paul II, Joseph Ratzinger/Benedict XVI, Hans Urs von Balthasar, and Norbert Hoffmann.
The author argues for the central importance and perennial value of a theology of atonement, even as she explains the modern aversion to it. The book's central aim is to deepen our understanding of the biblical claim that God shows himself to be love precisely by sending his Son as atonement. "In this is love: not that we loved God, but that he loved us and sent his Son as expiation for our sins" (1 Jn 4:10).
The book develops a compelling vision of atonement as a process that originates from and is engendered by God's own power to love. This vision not only takes account of the gravity of sin and its consequences but also provides a clear illumination of the wholly gratuitous, radically forgiving, passionate and powerful nature of God's redeeming love for mankind. Distinct from the majority of theological accounts of atonement, which focus almost exclusively on the role of Christ, this book highlights the role of God the Father in the atoning mission of the Son."