Podcast: Play in new window | Download (Duration: 27:34 — 19.0MB) | Embed
Subscribe: Apple Podcasts | Google Podcasts | Spotify | Amazon Music | Android | Pandora | iHeartRadio | JioSaavn | Podchaser | Gaana | Podcast Index | Email | TuneIn | Deezer | Anghami | RSS | More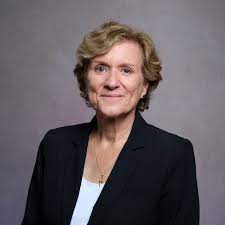 The God of Wrath or Mercy? – Atonement: Soundings in Biblical, Trinitarian, and Spiritual Theology
Discerning Hearts presents a series of conversations between Dr. Margaret Turek and Evan Collins about her book, "Atonement: Soundings in Biblical, Trinitarian, and Spiritual Theology."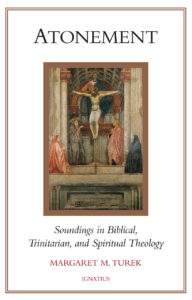 You can pick up a copy of the book here:
An excerpt from the book:
We have already acknowledged that a defective notion of divine wrath can get in the way of the biblical claim that God reveals himself to be love precisely in sending his Son as atonement for sin (1 Jn 4:8–10). Nonetheless, we may not simply ignore or cast aside the many biblical references to God's anger in both the Old and the New Testaments. As Balthasar recognizes: "The Old Testament perceptions of the divine 'wrath' (Rom 5:9) . . . and 'judgment' (Rom 8:3), which are taken up by Paul and the whole of the New Testament in speaking of the Cross, are not to be represented as superseded, anthropomorphic, and incompatible with the God of love who wills reconciliation (2 Cor 5:18; Col 1:20), for this reconciliation is to take place precisely 'through the death of his Son' (Rom 5:10) . . . in his 'offering for sin' (2 Cor 5:21)."95 Both Hoffmann and Balthasar tackle head on the subject of God's wrath while attempting to avoid two extremes: on one side, the stance that simply dismisses the biblical testimony to God's anger as primitive thinking; and on the other, the view that imagines God's wrath along the lines of the punitive rage of a celestial child abuser.The course to take, we suggest, is to regard divine anger as an aspect of the second of the three factors integral to the process of atonement: namely, God's passionate involvement. This will entail striving toward a superior harmony in which every aspect of God's involvement in man's redemption is ultimately explained by God's passion of love.

Turek, Margaret. Atonement: Soundings in Biblical, Trinitarian, and Spiritual Theology (pp. 49-50). Ignatius Press. Kindle Edition.
---
From the book's description:
"This book presents the chief insights concerning the mystery of atonement in the works of four theological guides: John Paul II, Joseph Ratzinger/Benedict XVI, Hans Urs von Balthasar, and Norbert Hoffmann.
The author argues for the central importance and perennial value of a theology of atonement, even as she explains the modern aversion to it. The book's central aim is to deepen our understanding of the biblical claim that God shows himself to be love precisely by sending his Son as atonement. "In this is love: not that we loved God, but that he loved us and sent his Son as expiation for our sins" (1 Jn 4:10).
The book develops a compelling vision of atonement as a process that originates from and is engendered by God's own power to love. This vision not only takes account of the gravity of sin and its consequences but also provides a clear illumination of the wholly gratuitous, radically forgiving, passionate and powerful nature of God's redeeming love for mankind. Distinct from the majority of theological accounts of atonement, which focus almost exclusively on the role of Christ, this book highlights the role of God the Father in the atoning mission of the Son."