St. Mother Teresa of Calcutta Novena - Daily mp3 and text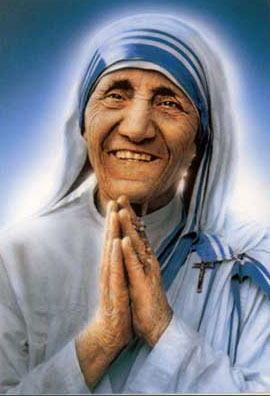 Here are other items you may wish to listen to during your 9-Days of prayer and reflection with St. Teresa
Podcast: Play in new window | Download (Duration: 28:32 — 39.2MB) | Embed
Subscribe: Apple Podcasts | Android | Email | Google Play | Stitcher | TuneIn | RSS | More
Join Msgr. John Esseff as he reflects on his experiences with Mother Teresa on the eve of her canonization! Several of the stories he has not shared on any of his previous programs.
Rather than be "admirers" of Mother Teresa, Msgr. Esseff asks all of us to pray to become "imitators" of this little one of God's children who has now become one of His great saints!
Carrier of God's Tender Love and Mercy
Lord Jesus, merciful Face of the Father, you came to give us the Good News of the Father's mercy and tenderness.
We thank you for the gift of our dearest Mother, Blessed Teresa of Calcutta, who will be canonized in this Jubilee Year of Mercy. You chose her to be your presence, your love and compassion to the brokenhearted, the unwanted, the abandoned and the dying. She responded wholeheartedly to your cry, 'I Thirst,' by the holiness of her life and humble works of love to the poorest of the poor.
We pray, through her intercession, for the grace to experience your merciful love and share it in our own families, communities and with all our suffering brothers and sisters. Help us to give our "hearts to love and hands to serve" after the example of Mother Teresa. Lord Jesus, bless every member of our family, our parish, our diocese, our country, especially those most in need, that we all may be transformed by your merciful love. Amen.
Text © Mother Teresa Center of the Missionaries of Charity
St. Teresa of Calcutta Novena – Mp3 audio and text
This work is licensed under a Creative Commons Attribution-NonCommercial-NoDerivatives 4.0 International License.