The Pope of the Blessed Sacrament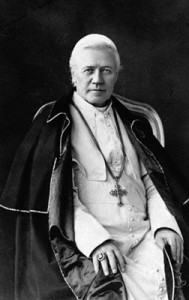 "Itching Ears Among Us
Saint Pius X exemplified the words of the Apostle to Timothy: "Preach the word, be urgent in season and out of season, convince, rebuke, and exhort, be unfailing in patience and in teaching. For the time is coming when people will not endure sound teaching, but having itching ears they will accumulate for themselves teachers to suit their own likings, and will turn away from listening to the truth and wander into myths" (2 Tim 4:2–4). One hundred years after Pope Saint Pius X we have to ask ourselves if there are not still "itching ears" among us.
What causes one's ears to itch? Curiosity. Lack of discernment. A weak background in Catholic doctrine. Faithful Catholics cannot permit themselves to read just anything. To read authors of dubious orthodoxy or authors critical of the Magisterium is like scratching an itch. It becomes worse. Why would one would even want to read such authors when one can choose from among the inexhaustible richness of the writings of the saints of every age?
It was Saint Pius X who opened Holy Communion to little children. He invited the Catholic faithful to frequent, even daily Holy Communion. Pius X came to be known as the "Pope of the Eucharist," a title that he now shares with Pope John Paul II, the author of Ecclesia de Eucharistia and of Mane Nobiscum, Domine." – for more go to Vultus Christi
I see that serious face of the young boy to the right, and I wonder what he is thinking.  His family was so poor.  Giuseppe Melchiorre Sarto was born in 1835, the second of ten children.  His father was the village postman.  Though poor, his parents valued education and made every effort in securing that gift for their children.
Pope Pius was a Marian Pope, whose encyclical Ad Diem Illum expresses his desire through Mary to renew all things in Christ, which he had defined as his motto in his first encyclical. Pius believed that there is no surer or more direct road than by Mary to achieve this goal (no wonder he had such a beautiful heart). Pius X was the only Pope in the 20th century with extensive pastoral experience at the parish level, and pastoral concerns permeated his papacy; he favoured the use of the vernacular in catechesis. Frequent communion was a lasting innovation of his papacy. He spoke plainly and with strength, and because of that he was not well like by the elite and the rich.   He often referred to his own humble origins, taking up the causes of poor people. I was born poor, I have lived poor, and I wish to die poor
This is a wonderful prayer by the saint himself:
O Lord Jesus Christ, let Your passion be my strength to sustain, guard, and protect me. Let Your wounds be my food and drink to nourish, fill, and invigorate me. Let the shedding of Your Blood cleanse me of all my sins. Let Your death obtain eternal life for me and Your cross lead me to everlasting glory. Let these constitute for me refreshment and joy, health and uprightness of heart.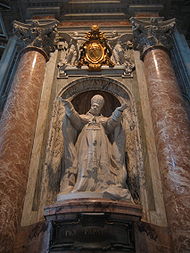 Amen.
St. Pius X Statue at St. Peter's…It's so high up. I suspect he probably would have preferred more to be on the level of the people.