Podcast: Play in new window | Download (Duration: 3:00 — 2.8MB) | Embed
Subscribe: Google Podcasts | Spotify | Amazon Music | Android | Pandora | iHeartRadio | Stitcher | Podchaser | Podcast Index | Email | TuneIn | RSS | More
Day 9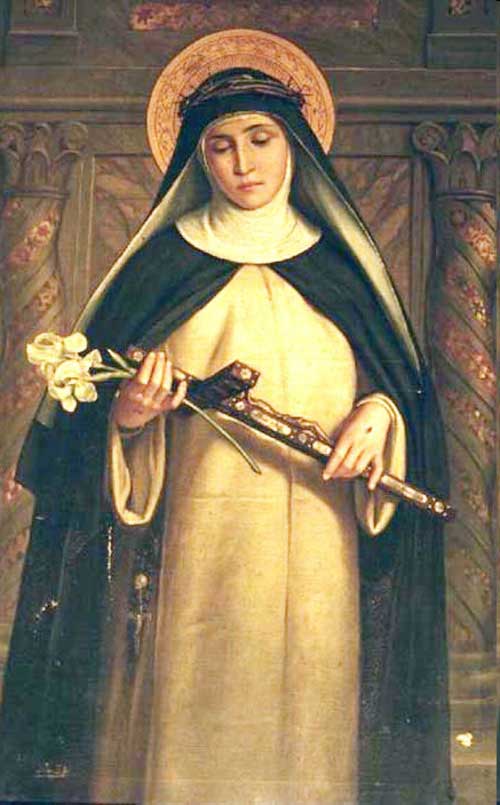 "My Nature is Fire":
In your nature, eternal Godhead,
I shall come to know my nature.
And what is my nature, boundless love?
It is fire,
because you are nothing but a fire of love.
And you have given humankind
a share in this nature,
for by the fire of love you created us.
And so with all other people
and every created thing;
you made them out of love.
O ungrateful people!
What nature has your God given you?
His very own nature!
Are you not ashamed to cut yourself off from such a noble thing
through the guilt of deadly sin?
O eternal Trinity, my sweet love!
You, light, give us light.
You, wisdom, give us wisdom.
You, supreme strength, strengthen us.
Today, eternal God,
let our cloud be dissipated
so that we may perfectly know and follow your Truth in truth,
with a free and simple heart.
God, come to our assistance!
Lord, make haste to help us!

Amen.
Heavenly Father, your glory is in your saints. We praise your glory in the life of the admirable St. Catherine of Siena, virgin and doctor of the Church. Her whole life was a noble sacrifice inspired by an ardent love of Jesus, your unblemished Lamb. In troubled times she strenuously upheld the rights of His beloved spouse, The Church. Father, honor her merits and hear her prayers for each of us. Help us to pass unscathed through the corruption of this world, and to remain unshakably faithful to the church in word, deed, and example. Help us always to see in the Vicar of Christ an anchor in the storms of life, and a beacon of light to the harbor of your Love, in this dark night of your times and men's souls. Grant also to each of us our special petition . . . (pause to pray for your own intentions). We ask this through Jesus, your Son, in the bond of the Holy Spirit. Amen.
St. Catherine of Siena, Pray for us.