Podcast: Play in new window | Download (Duration: 3:05 — 2.8MB) | Embed
Subscribe: Google Podcasts | Spotify | Amazon Music | Android | Pandora | iHeartRadio | Stitcher | Podchaser | Podcast Index | Email | TuneIn | RSS | More
Day 7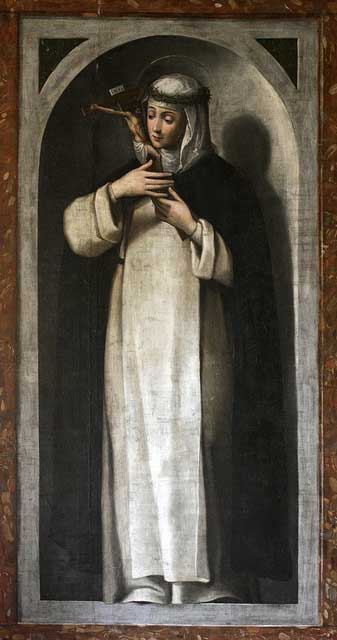 To the King of France:
Oh, how the man should be ashamed who follows the teaching of the devil and his own lower nature, caring more to gain and keep the riches of this world, which are all vain, and pass like the wind, than for his soul and his neighbor  For while abiding in hate with his neighbour, he has hate by his side, since hate deprives him of divine charity. Surely he is foolish and blind, for he does not see that with the sword of hate to his neighbor he is killing himself.

Therefore I beg you, and will that you follow Christ crucified, and love your neighbor's salvation: proving that you follow the Lamb, who for hunger of His Father's honor and the salvation of souls chose bodily death. … Care not if you lose from your worldly substance; for loss will be gain to you, provided that you  reconcile your soul with your brother.
Heavenly Father, your glory is in your saints. We praise your glory in the life of the admirable St. Catherine of Siena, virgin and doctor of the Church. Her whole life was a noble sacrifice inspired by an ardent love of Jesus, your unblemished Lamb. In troubled times she strenuously upheld the rights of His beloved spouse, The Church. Father, honor her merits and hear her prayers for each of us. Help us to pass unscathed through the corruption of this world, and to remain unshakably faithful to the church in word, deed, and example. Help us always to see in the Vicar of Christ an anchor in the storms of life, and a beacon of light to the harbor of your Love, in this dark night of your times and men's souls. Grant also to each of us our special petition . . . (pause to pray for your own intentions). We ask this through Jesus, your Son, in the bond of the Holy Spirit. Amen.
St. Catherine of Siena, Pray for us.