This work by Discerning Hearts is licensed under a Creative Commons Attribution-NonCommercial-NoDerivs 4.0 International
Permissions beyond the scope of this license may be available at https://www.discerninghearts.com
St. Anthony of the Desert Novena Day 1
Podcast: Play in new window | Download (Duration: 2:20 — 1.6MB) | Embed
Subscribe: Apple Podcasts | Google Podcasts | Spotify | Amazon Music | Android | Pandora | iHeartRadio | Stitcher | JioSaavn | Podchaser | Gaana | Podcast Index | Email | TuneIn | Deezer | Anghami | RSS | More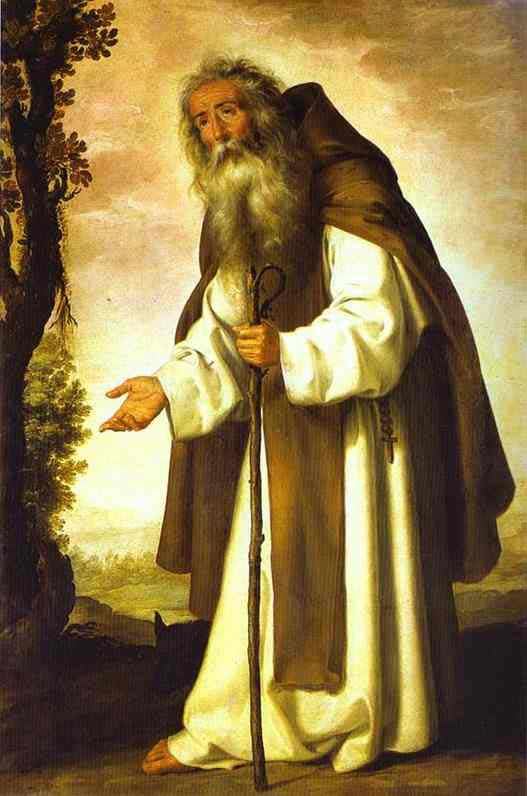 Day 1
From the Sayings of St. Anthony of the Desert:
When the holy Abba Anthony lived in the desert he was beset by acedia (lack of care, sloth), and attacked by many sinful thoughts. He said to God, "Lord, I want to be saved but these thoughts do not leave me alone; what shall I do in my affliction? How can I be saved?" A short while afterward, when he got up to go out, Anthony saw a man like himself sitting at his work, getting up from his work to pray, then sitting down again and plaiting a rope, then getting up again to pray. It was an angel of the Lord sent to correct and reassure him. He heard the angel saying to him, "Do this and you will be saved." At these words, Anthony was filled with joy and courage. He did this, and he was saved.
Dear God,
St Anthony of the Desert accepted your call to renounce the world and to love you above all things.
He faithfully served you in the solitude of the desert by fasting, prayer, humility and good works.
In the Sign of the Cross, he triumphed over the devil.
Through his intercession, may we learn to love you better; with all our hearts, all our souls, all our minds, all our strength and to love our neighbors as we love ourselves.
St Anthony, great and powerful saint, intercede for us also for this special request (mention your request).
We ask this through our Lord Jesus Christ, who lives and reigns with God the Father and the Holy Spirit, one God, forever and ever.
Amen
St. Anthony of the Desert, pray for us.