Podcast: Play in new window | Download (Duration: 33:28 — 23.0MB) | Embed
Subscribe: Google Podcasts | Android | Email | RSS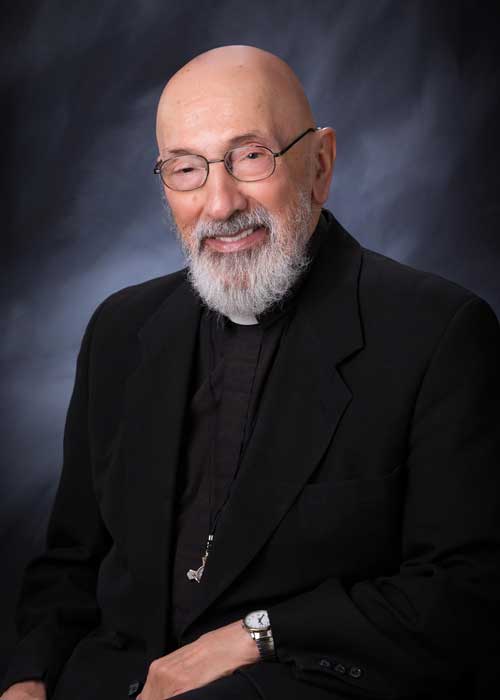 Msgr. Esseff reflects on the readings of the  4th Sunday of Easter.  He wants to let everyone know he is doing GREAT!  He discusses why he is reducing his podcasts to a weekly program again.  Msgr. Esseff also discusses the virtual retreat he hopes to offer in a few weeks!
Beloved:
If you are patient when you suffer for doing what is good,
this is a grace before God.
For to this, you have been called,
because Christ also suffered for you,
leaving you an example that you should follow in his footsteps.
He committed no sin, and no deceit was found in his mouth.
When he was insulted, he returned no insult;
when he suffered, he did not threaten;
instead, he handed himself over to the one who judges justly.
He himself bore our sins in his body upon the cross,
so that, free from sin, we might live for righteousness.
By his wounds you have been healed.
For you had gone astray like sheep,
but you have now returned to the shepherd and guardian of your souls.
Jesus said:
"Amen, amen, I say to you,
whoever does not enter a sheepfold through the gate
but climbs over elsewhere is a thief and a robber.
But whoever enters through the gate is the shepherd of the sheep.
The gatekeeper opens it for him, and the sheep hear his voice,
as the shepherd calls his own sheep by name and leads them out.
When he has driven out all his own,
he walks ahead of them, and the sheep follow him,
because they recognize his voice.
But they will not follow a stranger;
they will run away from him,
because they do not recognize the voice of strangers."
Although Jesus used this figure of speech,
the Pharisees did not realize what he was trying to tell them.
So Jesus said again, "Amen, amen, I say to you,
I am the gate for the sheep.
All who came before me are thieves and robbers,
but the sheep did not listen to them.
I am the gate.
Whoever enters through me will be saved,
and will come in and go out and find pasture.
A thief comes only to steal and slaughter and destroy;
I came so that they might have life and have it more abundantly."
Msgr. John A. Esseff is a Roman Catholic priest in the Diocese of Scranton.  He was ordained on May 30, 1953, by the late Bishop William J. Hafey, D.D. at St. Peter's Cathedral in Scranton, PA.  Msgr. Esseff served a retreat director and confessor to St. Mother Teresa.    He continues to offer direction and retreats for the sisters of the missionaries of charity around the world.  Msgr. Esseff encountered St. Padre Pio,  who would become a spiritual father to him.  He has lived in areas around the world, serving in the Pontifical missions, a Catholic organization established by St. Pope John Paul II to bring the Good News to the world especially to the poor.  He continues to serve as a retreat leader and director to bishops, priests and sisters and seminarians and other religious leaders around the world.