Podcast: Play in new window | Download (Duration: 3:54 — 2.8MB) | Embed
Subscribe: Apple Podcasts | Google Podcasts | Spotify | Amazon Music | Android | Pandora | iHeartRadio | JioSaavn | Podchaser | Gaana | Podcast Index | Email | TuneIn | Deezer | Anghami | RSS | More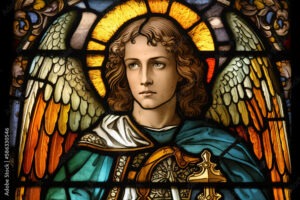 Day 5 – The Celestial Choir of Virtues – St. Michael and the Holy Angels Novena
V/. O God, + come to my assistance
R/. O Lord, make haste to help me.
Glory Be
Day 5 – The Celestial Choir of Virtues
The VIRTUES specifically preside over the elements of the world and the process of celestial life. Thus all heavenly bodies—from the stars and planets to the galaxies themselves—are kept in their divinely appointed routes and progress. On earth the Virtues maintain a watch over nature, marking and guiding every facet of natural life: rain, wind, snow, etc. St. Thomas Aquinas, in his Summa Theologica, noted that Virtues are in charge of miracles. As if these duties were not enough, the Virtues also assist humanity by bestowing grace and valor within the mortal heart. They give encouragement to the human to turn always to the good and help bolster the person's will to endure hardship and suffering and to have the personal strength to turn ever toward God. As the angels in charge of miracles, they receive their orders from the powers, but they also are connected closely to the saints.
Bunson, Matthew. Angels A to Z (Kindle Locations 5051-5060). Potter/Ten Speed/Harmony/Rodale. Kindle Edition.
By the intercession of St. Michael and the celestial Choir of Virtues, may the Lord preserve us from evil and suffer us not to fall into temptation. Amen.
Our Father …Hail Mary
O GLORIOUS Prince St. Michael, chief and commander of the heavenly hosts, guardian of souls, vanquisher of rebel spirits, servant in the house of the Divine King, and our admirable conductor, thou who dost shine with excellence and superhuman virtue, vouchsafe to deliver us from all evil, who turn to thee with confidence, and enable us by thy gracious protection to serve God more and more faithfully every day.
V/. Pray for us, O glorious St. Michael, Prince of the Church of Jesus Christ.
R/. That we may be made worthy of His promises.
Almighty and Everlasting God, Who by a prodigy of goodness and a merciful desire for the salvation of all men, hast appointed the most glorious Archangel, St. Michael, Prince of Thy Church, make us worthy, we beseech Thee, to be delivered from all our enemies that none of them may harass us at the hour of death, but that we may be conducted by him into the august presence of Thy Divine Majesty. This we beg through the merits of Jesus Christ, our Lord. Amen.
---
---
---