Podcast: Play in new window | Download (Duration: 27:21 — 25.0MB) | Embed
Subscribe: Apple Podcasts | Google Podcasts | Spotify | Amazon Music | Android | Pandora | iHeartRadio | Stitcher | JioSaavn | Podchaser | Gaana | Podcast Index | Email | TuneIn | Deezer | Anghami | RSS | More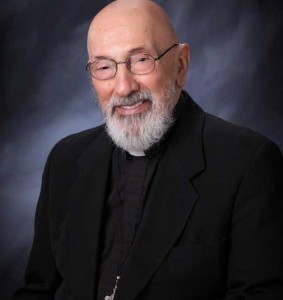 Msgr. Esseff reflects on Matthew Chap 6:24-34 and asks the question, "Why do you worry?" He shares several compelling stories, including a poignant encounter with a woman, who, surrounded by her husband, children, mother, and sister, prepares for death.
Jesus said to his disciples:
"No one can serve two masters.
He will either hate one and love the other,
or be devoted to one and despise the other.
You cannot serve God and mammon."Therefore I tell you, do not worry about your life,
what you will eat or drink,
or about your body, what you will wear.
Is not life more than food and the body more than clothing?
Look at the birds in the sky;
they do not sow or reap, they gather nothing into barns,
yet your heavenly Father feeds them.
Are not you more important than they?
Can any of you by worrying add a single moment to your life-span?
Why are you anxious about clothes?
Learn from the way the wildflowers grow.
They do not work or spin.
But I tell you that not even Solomon in all his splendor
was clothed like one of them.
If God so clothes the grass of the field,
which grows today and is thrown into the oven tomorrow,
will he not much more provide for you, O you of little faith?
So do not worry and say, 'What are we to eat?'
or 'What are we to drink?' or 'What are we to wear?'
All these things the pagans seek.
Your heavenly Father knows that you need them all.
But seek first the Kingdom of God and his righteousness,
and all these things will be given you besides.
Do not worry about tomorrow; tomorrow will take care of itself.
Sufficient for a day is its own evil."
Msgr. John A. Esseff is a Roman Catholic priest in the Diocese of Scranton.  He was ordained on May 30, 1953, by the late Bishop William J. Hafey, D.D. at St. Peter's Cathedral in Scranton, PA.  Msgr. Esseff served a retreat director and confessor to St. Teresa of Calcutta.    He continues to offer direction and retreats for the sisters of the missionaries of charity around the world.  Msgr. Esseff encountered St.  Padre Pio,  who would become a spiritual father to him.  He has lived in areas around the world, serving in the Pontifical missions, a Catholic organization established by St. Pope John Paul II to bring the Good News to the world especially to the poor.   He continues to serve as a retreat leader and director to bishops, priests and sisters and seminarians and other religious leaders around the world.