Podcast: Play in new window | Download (Duration: 30:31 — 21.1MB) | Embed
Subscribe: Google Podcasts | Spotify | Amazon Music | Android | Pandora | iHeartRadio | Stitcher | Podchaser | Podcast Index | Email | TuneIn | RSS | More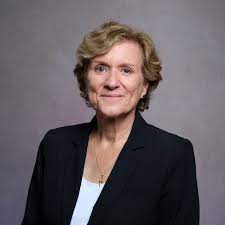 The Transforming Spousal Love of God & Atonement – Atonement: Soundings in Biblical, Trinitarian, and Spiritual Theology
Discerning Hearts presents a series of conversations between Dr. Margaret Turek and Evan Collins about her book, "Atonement: Soundings in Biblical, Trinitarian, and Spiritual Theology."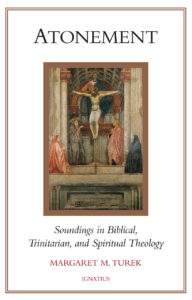 You can pick up a copy of the book here:
An excerpt from the book:
On God's side, atonement for sin is the result of (1) his own sovereign initiative. God is the one whose actions are decisive, not only in making atonement possible, but in originating the covenant itself.6 A brief glance at Deuteronomy reveals that the covenant derives from God's election of this particular people, "for which no reason can be given (Deut 7:6–7), without any merit on the people's part (9:6; 8:17), on the basis of love alone (7:8; 10:15)."7 It is a love that in initiating the covenant, focuses on mutuality with an unswerving commitment (Deut 6:5; cf. Ex 6:7; Lev 26:11ff.). Consequently, the relationship that God establishes can live only by the dynamic process of "word and answer, love and reciprocating love, directive and obedience".8 When the answer of obedient love is not given, God himself provides the means for the restoration of the covenant relationship. Joseph Ratzinger highlights this factor as follows: "In other world religions, expiation usually means the restoration of the damaged relationship with God by means of expiatory actions initiated on the part of men. Almost all religions center around the problem of expiation." In the Bible, however, God restores the damaged relationship "on the initiative of his own power to love, by making unjust man just again . . . through his own creative mercy."

Turek, Margaret. Atonement: Soundings in Biblical, Trinitarian, and Spiritual Theology (p. 23). Ignatius Press. Kindle Edition.
---
From the book's description:
"This book presents the chief insights concerning the mystery of atonement in the works of four theological guides: John Paul II, Joseph Ratzinger/Benedict XVI, Hans Urs von Balthasar, and Norbert Hoffmann.
The author argues for the central importance and perennial value of a theology of atonement, even as she explains the modern aversion to it. The book's central aim is to deepen our understanding of the biblical claim that God shows himself to be love precisely by sending his Son as atonement. "In this is love: not that we loved God, but that he loved us and sent his Son as expiation for our sins" (1 Jn 4:10).
The book develops a compelling vision of atonement as a process that originates from and is engendered by God's own power to love. This vision not only takes account of the gravity of sin and its consequences but also provides a clear illumination of the wholly gratuitous, radically forgiving, passionate and powerful nature of God's redeeming love for mankind. Distinct from the majority of theological accounts of atonement, which focus almost exclusively on the role of Christ, this book highlights the role of God the Father in the atoning mission of the Son."