The Nine Ways of Prayer of St. Dominic
Podcast: Play in new window | Download (Duration: 2:57 — 2.7MB) | Embed
Subscribe: Google Podcasts | Spotify | Amazon Music | Android | Pandora | iHeartRadio | Stitcher | Podchaser | Podcast Index | Email | TuneIn | RSS | More
The Fourth Way of Prayer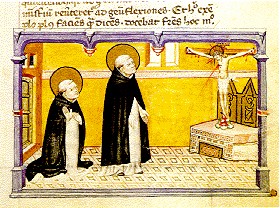 After this, Saint Dominic would remain before the altar or in the chapter room with his gaze fixed on the Crucified One, looking upon Him with perfect attention. He genuflected frequently, again and again. He would continue sometimes from after Compline until midnight, now rising, now kneeling again, like the apostle Saint James, or the leper of the gospel who said on bended knee: "Lord, if thou wilt, thou canst make me clean" [Matt. 8:2]. He was like Saint Stephen who knelt and called out with a loud cry: "Lord, do not lay this sin against them" [Acts 7:60]. Thus there was formed in our holy father, Saint Dominic, a great confidence in God's mercy towards himself, all sinners, and for the perseverance of the younger brethren whom he sent forth to preach to souls. Sometimes he could not even restrain his voice, and the friars would hear him murmuring: "Unto thee will I cry, O Lord: O my God, be not thou silent to me: lest if thou be silent to me, I become like them that go down into the pit" [Ps. 27:1] and comparable phrases from the Sacred Scripture.
At other times, however, he spoke within himself and his voice could not be heard. He would remain in genuflection for a long while, rapt in spirit; on occasion, while in this position, it appeared from his face that his mind had penetrated heaven and soon he reflected an intense joy as he wiped away the flowing tears. He was in a stage of longing and anticipation like a thirsty man who has reached a spring, and like a traveler who is at last approaching his homeland. Then he would become more absorbed and ardent as he moved in an agile manner but with great grace, now arising, now genuflecting. He was so accustomed to bend his knees to God in this way that when he traveled, in the inns after a weary journey, or along the wayside while his companions rested or slept, he would return to these genuflections, his own intimate and personal form of worship. This way of prayer he taught his brethren more by example than by words.
The text was taken from the book 
St. Dominic: Biographical Documents
, edited by Fr. Francis C. Lehner, O.P.  The chapter "The Nine Ways of Prayer of St. Dominic" was translated by Fr. Andrew Kolzow, O.P.
"The Nine Ways of Prayer of St. Dominic" from St. Dominic: Biographical Documents, © 1964 by The Thomist Press.
Nihil obstat: Reverend A. D. Lee, O.P. Censor Deputatus
Imprimatur: Patrick A. O'Boyle Archbishop of Washington
April 29,1964