"Answers from the Word" with the "Bible Geek" Mark Hart
Mark Hart is a former teen, CORE member, and youth minister in LIFE TEEN, and now proudly serves as Vice President of LIFE TEEN. A graduate from the University of Notre Dame, and an author of many books, Mark's creative work on videos and written resources are known internationally. In his free time, Mark travels the globe leading conferences, retreats, missions, and trainings for teens and adults alike.
Mark has traveled throughout North America, Europe and Australia teaching and preaching the faith to hundreds of thousands of youth and adults. He has spoken at World Youth Days and dozens of Diocesan Youth Conferences and Eucharistic Congresses. His summers are spent evangelizing at Steubenville and Notre Dame Summer Youth Conferences, and through LIFE TEEN Camp experiences. In addition, Mark trains youth ministers at National LIFE TEEN Conferences and Retreat experiences, leads Parish Missions and speaks on college and high school campuses around the country.  While he serves as the Vice President of LIFE TEEN, he is known to tens of thousands simply as the "Bible Geek ®" Mark passionately echoes the gospel to all he encounters. He is as deep as he is funny, and his love for his wife and kids is second only to his immense love for Jesus Christ.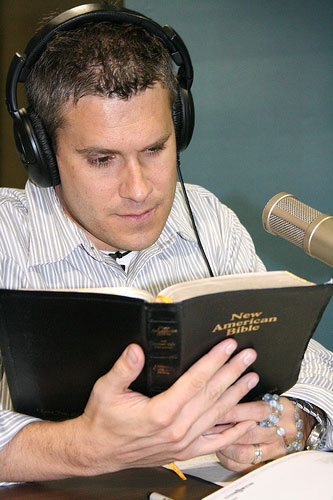 Podcast: Play in new window | Download (Duration: 24:39 — 22.6MB) | Embed
Subscribe: iTunes | Android | Email | Google Play | Stitcher | TuneIn | RSS | More
Mark answers – 1. Why do we celebrate Advent? What does it mean and what's it all about? 2. What is the significance of the Advent Wreath, the nativity set, the different colors, etc. we see in Church? Mark Hart is an author, speaker, director and teacher, Mark's work both written and spoken, is known … Read more
This work is licensed under a Creative Commons Attribution-NonCommercial-NoDerivatives 4.0 International License.