Podcast: Play in new window | Download (Duration: 2:17 — 2.1MB) | Embed
Subscribe: Google Podcasts | Spotify | Amazon Music | Android | Pandora | iHeartRadio | Stitcher | Podchaser | Podcast Index | Email | TuneIn | RSS | More
Day 2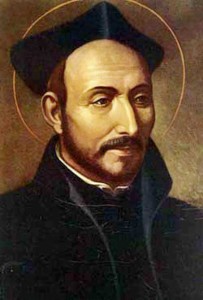 From the writings of St. Ignatius of Loyola:
You are much deceived in thinking that the cause of your unrest and little progress in following the way of the Lord comes from the place where you live, or your superiors, or your brethren. This unrest comes from within you, that is, it comes from your own lack of humility, obedience, and prayer, and finally from a want of mortification and fervor in advancing in the way of perfection. You could have a change in residence, of superiors, and of brethren, but if the interior man is not changed these other changes will do you no good. Everywhere will be the same for you, unless you become humble, obedient, devout, and you mortify your self-love. This is the change you should seek and no other [Ep. 8:328-329].
Our Father….
With St. Ignatius we pray:
Soul of Christ, sanctify me.
Body of Christ, save me.
Blood of Christ, inebriate me.
Water from the side of Christ, wash me.
Passion of Christ, strengthen me.
O Good Jesus, hear me.
Within Thy wounds hide me.
Suffer me not to be separated from thee.
From the malignant enemy defend me.
In the hour of my death call me.
And bid me come unto Thee,
That with all Thy saints,
I may praise thee
Forever and ever.
Amen.
St. Ignatius of Loyola, pray for us