Podcast: Play in new window | Download (Duration: 13:21 — 9.3MB) | Embed
Subscribe: Apple Podcasts | Google Podcasts | Spotify | Amazon Music | Android | Pandora | iHeartRadio | JioSaavn | Podchaser | Gaana | Podcast Index | Email | TuneIn | Deezer | Anghami | RSS | More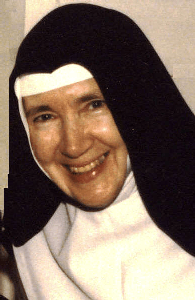 CLJ5 – A Cleaned Heart – 'Come, Lord Jesus' by Mother Mary Francis, P.C.C.
A Cleaned Heart
My dear Sisters, in the second week of Advent we have so rich a liturgy encompassing the great solemnity of the Immaculate Conception of the Blessed Virgin Mary and rounding its weekly cycle off with the tender feast of Our Lady of Guadalupe. It is enough to make one feel drunk with new wine just to think about all that is opening out before us in this week. We want to linger especially today on that great solemnity of our Immaculate Mother. It could be that this great solemnity which is meant to bring us so close to our Mother could really separate us from her if we did not enter profoundly into its meaning. She was immaculate; she was born without sin, and she lived without sin; and death could not hold her in the tomb because she was without sin and therefore the penalty of death had nothing to do with her.

And so, we could think, what does this have to do with me? I, who have a whole life of accumulation of sin and dreary faults committed again and again. What do we mean—in that prayer of the Church—that we should come with clean hearts to God? How can we ever come with a clean heart to God? Is this not something reserved to our Immaculate Mother? We just seem to get dirtier and dirtier all the time. How can this be a real prayer, a sincere prayer? It seems that no sooner have we got a little bit clean than we are soiled again; and Scripture itself could seem very depressing when it says the just man, the man in perfect holiness, falls seven times a day. We could sit back and say, "Oh, dear!"—and then we want to pray to come to God with a clean heart?

None of us would stand up and say, "Well, I None of us would stand up and say, "Well, I None of us would stand up and say, "Well, I am the just woman." But even then I would fall seven times a day!

Francis P.C.C., Mother Mary. Come, Lord Jesus (p. 77-78). Ignatius Press. Kindle Edition.
---
Mother Mary Francis, P.C.C., (1921-2006) was for more than forty years the abbess of the Poor Clare Monastery of Our Lady of Guadalupe in Roswell, New Mexico. She became recognized as an authoritative voice for the renewal of religious life through her many books, including A Right to Be Merry, But I Have Called You Friends, and Anima Christi.  To learn more about Mother Mary Francis and the Poor Clare Nuns of Roswell, NM visit their website at https://poorclares-roswell.org


---
Discerning Hearts is grateful to Cluny Media whose permission was obtained to record these audio selections from this published work.