Podcast: Play in new window | Download (Duration: 10:25 — 7.3MB) | Embed
Subscribe: Apple Podcasts | Google Podcasts | Spotify | Amazon Music | Android | Pandora | iHeartRadio | Stitcher | JioSaavn | Podchaser | Gaana | Podcast Index | Email | TuneIn | Deezer | Anghami | RSS | More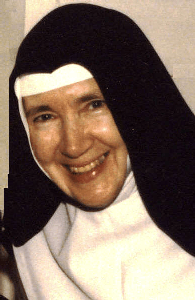 CLJ4 – Faith, Hope, Love – 'Come, Lord Jesus' by Mother Mary Francis, P.C.C.
CLJ4 – Faith, Hope, Love
"When Jesus saw their faith he said, "As for you, your sins are forgiven" (Lk 5:20).

"My dear Sisters, today in the Gospel our Lord praises the faith of those who lowered the paralytic through the roof so that Jesus could heal him. Let us continue to reflect on the theme we had in the Sunday readings of giving evidence that we wish to reform our lives, and let us examine the evidence of our own willingness to be healed, which pertains to faith, hope, and charity. To reform literally means, not to make a new form, but to go back to the original form. The Cistercian abbot Dom Gabriel Sortais, O.C.S.O., said, "Our Lady was exactly as God dreamed her."

She never had to be reshaped; the form never had to be reintegrated. Unfortunately, we often need to be reshaped and reformed. Yet that, too, is beautiful: that we are formed again, not in a different way, but back to that dream (a lovely expression) that God has of each one of us, that dream-form in the mind and the heart of God of what he intends each of us to be. This is what we mean by reform. Faith, we are told in Scripture, is the substance of things unseen. It is easy to say, "I believe in God."

But to say that "I believe that God is in control" can be very hard—to really give him the evidence of the heart, of the soul bowed down before him, sometimes in confusion at what he seems to be doing (and not doing) and sometimes in real anguish—and to believe. This is the evidence he is asking of us. We tend to think of faith as a lovely thing. Faith is not just a matter of speaking, but it is a matter of believing when it is difficult to believe."

Francis P.C.C., Mother Mary. Come, Lord Jesus (pp. 86-87). Ignatius Press. Kindle Edition.
---
Mother Mary Francis, P.C.C., (1921-2006) was for more than forty years the abbess of the Poor Clare Monastery of Our Lady of Guadalupe in Roswell, New Mexico. She became recognized as an authoritative voice for the renewal of religious life through her many books, including A Right to Be Merry, But I Have Called You Friends, and Anima Christi.  To learn more about Mother Mary Francis and the Poor Clare Nuns of Roswell, NM visit their website at https://poorclares-roswell.org


---
Discerning Hearts is grateful to Cluny Media whose permission was obtained to record these audio selections from this published work.