Podcast: Play in new window | Download (Duration: 11:12 — 7.8MB) | Embed
Subscribe: Apple Podcasts | Google Podcasts | Spotify | Amazon Music | Android | Pandora | iHeartRadio | Stitcher | JioSaavn | Podchaser | Gaana | Podcast Index | Email | TuneIn | Deezer | Anghami | RSS | More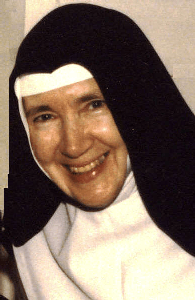 CLJ1 – Right Nutrition – 'Come, Lord Jesus' by Mother Mary Francis, P.C.C.
 Right Nutrition
"Jesus took the seven loaves and the fish, gave thanks, broke the loaves. . . . All ate and were satisfied (Mt 15:36, 37)."
"We all know in daily experience in this blessed Advent season that there are such rich viands spread out before us in the liturgy that one hardly knows where to linger. One thinks, "This must be the theme of my prayer today", and then the next responsory comes, and then this reading comes, and then this lesson comes. In a beautiful, provocative homily by Saint Bernard at Matins we read a wonderful phrase: "Feed on goodness." We should, spiritually, watch what we are eating. Now, each of us has full command over what our thoughts feed upon. There is a great thrust in our times about right nutrition. There is finally a reaction against the eating of junk foods, which not only provide no nourishment but do great harm to the physical system. Reputable doctors are saying that we are what we eat. Sometimes people deliberately feed themselves on wrong foods, junk foods, which taste good at the moment, please the palate at the moment—but give no nourishment for the body's growth and sustenance, and little by little work destructive havoc on the body. We can do this spiritually as well. "Feed on goodness." How can we live a spiritual life, how can we be the force that we are called to be in the Church of God, beginning with the local church of our community, if our diet is very destructive, if, instead of feeding on goodness we feed on self? Do we sometimes feed our thoughts on impatience, feed them on self-pity? Do we feed on irritability? Do we feed on grudging giving? Do we feed on selfishness, instead of feeding on goodness? Saint Bernard says, "Remember to eat your bread, or your heart will wither." We must remember to eat our bread, to feed on goodness, or our spiritual life will wither. It really will."
---
Mother Mary Francis, P.C.C., (1921-2006) was for more than forty years the abbess of the Poor Clare Monastery of Our Lady of Guadalupe in Roswell, New Mexico. She became recognized as an authoritative voice for the renewal of religious life through her many books, including A Right to Be Merry, But I Have Called You Friends, and Anima Christi.  To learn more about Mother Mary Francis and the Poor Clare Nuns of Roswell, NM visit their website at https://poorclares-roswell.org


---
Discerning Hearts is grateful to Cluny Media whose permission was obtained to record these audio selections from this published work.