Map Unavailable
Date/Time
Date(s) - 04/07/22 - 04/10/22
Time - All Day

The Retreat is now FULL!
Please consider registering for the LIVE Online WEBINAR for this event
A first of its kind retreat given by Fr. Timothy Gallagher, O.M.V.,
on  St. Thérèse of Lisieux, St. Zelie, St. Louie, Servant of God Leonie, and the entire Martin family!
Spiritual Conferences, time for personal prayer, Daily Mass, opportunities for Confession, and Daily Holy Hours all set in the backdrop of the beautiful quiet atmosphere of the St. Benedict Center
Hope in Difficult Times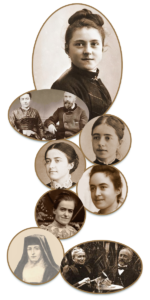 Are you challenged by the daily struggles in your life?
Have your plans for your life changed in ways you never expected?
Are you anxious about the events that swirl around you, financial concerns, culture shifts, and upheavals on the local and world stage?
Are you fearful for the future of children, family members, and other loved ones as you see them struggle?
Has your trust and faith in God been shaken by illnesses and even the death of loved ones?
This retreat is for those who are looking for hope in difficult times! 
Fr. Timothy Gallagher reflects on the lives of  St. Thérèse, Sts. Zelie and Louis, Servant of God Leonie, and many others from the Martin family during this special time of retreat!   The retreatants will often hear in the family's own words, through their letters and other writings, how they too were challenged by the same things that affect us today.  How they struggled and persevered through all the above questions to become the beloved family of saints we know today.
Is this type of trust in God and holiness really possible for us?  Yes, it is!  It is a challenge, sometimes painfully so, but the good news is that we are not alone!
During this retreat, you will learn more about the Martin family and the sometimes harrowing struggles they endured during their lifetimes, both individually and together as a family.  Their witness of love for God and for each other shines like a beacon for all of us who struggle on the stormy seas of life.
You will also meet those saintly friends that assisted the Martin's in their spiritual journey!  St. Francis de Sales and St. Jane de Chantal, St. Margaret Mary Alacoque (the family believed her intercession aided the healing of a very sick Leonie as a child), St. Augustine (a favorite of St. Louis), St. John of the Cross and St. Teresa of Avila, and even St. Clare of Assisi (did you know St. Zelie was a Third Order Franciscan?).  And in the center of them all, we will find the tender loving care of the Blessed Virgin Mary and the burning love of the Sacred Heart of Jesus.
Sessions :
This experience is for those who wish to retreat into an atmosphere of shared simplicity, a time of reflection, prayer, and social interaction.  The aim of the retreat is to help individuals integrate Christian spirituality more fully in their own lives and their families, as well as the world around them.
The sessions comprise of an initial lecture, individual silent reading on selected texts, small-group discussion, and big group sharing then synthesis. The directors of the seminar initially will present the texts, and the group coordinators will guide the discussions.
The celebration of the Holy Eucharist will be offered daily. Reconciliation will be available, as well as times of Eucharistic Adoration.
Retreat Director: Fr. Timothy Gallagher, O.M.V.
Father Timothy M. Gallagher, O.M.V., was ordained in 1979 as a member of the Oblates of the Virgin Mary, a religious community dedicated to retreats and spiritual formation according to the Spiritual Exercises of St. Ignatius. Having obtained his doctorate in 1983 from the Gregorian University, he has taught (St. John's Seminary, Brighton, MA; Our Lady of Grace Seminary Residence, Boston, MA), assisted in formation work, and served two terms as provincial in his own community. He has dedicated many years to an extensive international ministry of retreats, spiritual direction, and teaching about the spiritual life. He is a frequent speaker on EWTN, and his digitally recorded talks are utilized internationally. He currently holds the St. Ignatius Chair for Spiritual Formation at St. John Vianney Theological Seminary in Denver.
Collaborators:
Kris McGregor, Executive Director/Founder of Discerning Hearts
Deacon Omar Gutierrez, M.A.
Take a look at the beautiful St. Benedict Retreat Center
***IMPORTANT***
If you are flying in from another part of the United States or Canada,
please plan on arriving on Wednesday, April 6, 2022.

A special travel evening Mass will be held for the early arrival group at the Retreat Center at 5:30 p.m that evening. 




If you are not renting a car, we can assist with transportation to the Retreat Center (only available for Wednesday arrivals)

We highly recommend flying into Omaha's Eppley Airport
VERY IMPORTANT:
Please arrange your flight to arrive no later than 5 p.m. Central time
if you wish our help with transportation to the Retreat Center.
Contact Patty at [email protected] for details.
Bookings
Bookings are closed for this event.