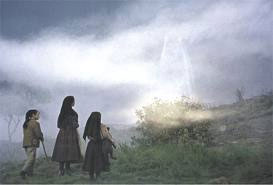 How can you pack the richness of Fatima into a little ol'blog post here?
I discerned….you can't.  There is just so much for us to take in and ponder.  For a fuller explanation of the approved private revelation I found this wikipedia article gives a fairly balanced presentation – Our Lady of Fatima.
The year is 1917: a dancing sun, an abundance of miracles, and so much more, were all given to wake up an aching world to the consequences of sin and the need to return to the heart and love of the Father, through the beautiful Immaculate Heart of Our Mother, the Blessed Virgin Mary.  A message was given to 3 shepherd children…a message basically consisting of prayer, penance and devotion to the Immaculate Heart of Mary.  If we can enter into these basic of all practices, our hearts would ultimately find their way "home"…to heaven and to the embrace of our loving Father.  Practice of the first five Saturday devotion, frequent recitation of Our Lady's rosary, and devotion to the Eucharist are all central elements to the experience of Fatima.
Many Roman Catholics recite prayers based on Our Lady of Fátima. Lucia later revealed that she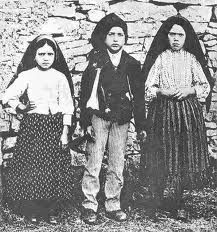 and her cousins had had several visions of an angel in 1916. Calling himself the "Angel of Portugal" and the "Angel of Peace," he taught them to bow with their heads to the ground and to say "O God, I believe, I adore, I hope, and I love you. I ask pardon for those who do not believe, do not adore, do not hope and do not love you." Lucia later set this prayer to music and a recording exists of her singing it. Sometime later he returned and taught them a Eucharistic devotion now known as the Angel Prayer.
Lucia said that the Lady emphasized Acts of Reparation and prayers to console Jesus for the sins of the world. Lucia said Mary's words were "When you make some sacrifice, say 'O Jesus, it is for your love, for the conversion of sinners, and in reparation for sins committed against the Immaculate Heart of Mary.'" At the first apparition, Lucia wrote, the children were so moved by the radiance they perceived that they involuntarily said "Most Holy Trinity, I adore you! My God, my God, I love you in the Most Blessed Sacrament."Lucia also heard Mary ask for these words to be added to the Rosary, after the Gloria Patri prayer: "O my Jesus, pardon us, save us from the fires of hell. Lead all souls to heaven, especially those in most need."
In the tradition of Marian visitations, the "conversion of sinners" is not necessarily religious conversion to the Roman Catholic Church, but general repentance and attempt to amend one's life according to the teachings of Jesus.Lucia wrote that she and her cousins defined "sinners" not as non-Catholics but as those who had fallen away from the Church or, more specifically, willfully indulged in sinful activity, particularly "sins of the flesh" and "acts of injustice and a lack of charity towards the poor, widows and orphans, the ignorant and the helpless" which she saidwere even worse than sins of impurity. – wikipedia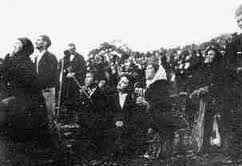 How much the Father loves us all!  To allow, through the action of the Holy Spirit, an encounter with Our Blessed Mother, especially one that is so loving  and nurturing.  Praise God for the grace of courage, perseverance, fortitude and so much more, poured out to those 3 little children who communicated that message to the world.  I am reminded of what Jesus once conveyed to St. Catherine of Siena, Doctor of the Church…that He uses the humble (like uneducated fisherman, simple women and little children) to communicate a message from heaven in order to confound the arrogant and to bring an opportunity of humility to us all.
Our Lady of Fatima, pray for us My favorite movie surrounding the mystical experience of Fatima is "The 13th Day" distributed by Ignatius Press.   Here is another video. film "The Miracle of Fatima"