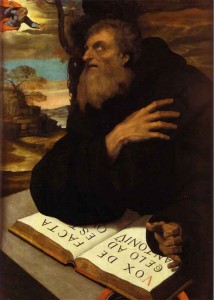 SAINT ANTHONY THE GREAT OF EGYPT: INSTRUCTIONS AND SAYINGS. Orthodox Christian Icons of St. Anthony. Chant in Greek "Kyrios pimonei".
St. Anthony the Great (251- 356), Egyptian saint, one of the great Fathers of the Church. Founder of Christian monasticism, the pinnacle of holy monks. The first desert hermit. Much venerated in Orthodox and Catholic Churches.
His miracle-working relics (body) is kept in Saint-Antoine-l'Abbaye in south-eastern France (since 980, being transferred from Constantinople, there from Alexandria in Egypt). In France, at his relics, St. Anthony's is credited with assisting in a number of miraculous healings, primarily from ergotism, which became known as "St. Anthony's Fire". He was credited by two local noblemen of assisting them in recovery from the disease. They then founded the Hospital Brothers of St. Anthony in honour of him. For century, thousands of deadly sick people flocked to his relics in Saint-Antoine in France for healing.