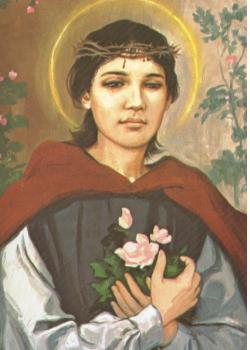 St. Rose of Lima, is the 1st person canonized a saint in the Americas and is considered the patron of Latin America and the Philippines.
Her story is really as lovely as her name.  Born Isabel (which in itself means Beauty) in 1586, she was so beautiful that they simply called her Rose.   She felt a special relationship with Jesus in her heart at very young age; and felt a close tie to St. Catherine of Siena.   Undoubtedly a she experienced deep mystical experiences in prayer.  Like many who have those types of graces, she felt called to extraordinary acts of penance not only for herself but  for all mankind.  It is said that she would place a pepper/lye-based oil on her skin in order to marr her complexi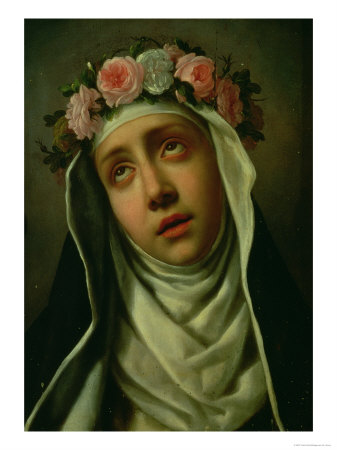 on so as not to be a source of temptation for others and to eliminate the potential for vanity in herself.  Ok, so that may seem extreme today, but don't forget it was an act not unlike that of St. Clare, who cut her hair in order to become unmarriageable…St. Rose's motivation may have shared some of that intention.  She had a great devotion to and relationship with the child Jesus; you will see him with her in many of the paintings depicting her life.  She died in 1617 and was canonized 1671.
The video is a wonderful one; the images tell the story.  For those of you who do not speak Spanish don't sweat it…remember it was her native language  (her father was Spanish, her mother part Spanish and Inca), and well…well allow yourself to stretch a little, it's so worth  viewing, if only to get to know St. Rose and her people better.