Would you please consider adding to your intentions, for this novena, a special intention:
"for the Spiritual and Temporal Needs for the ministry and mission of Discerning Hearts."
We have never before asked our listeners to join us in such a specific need for our ministry, but we now humbly ask for your help. We believe, first and foremost, in the power of prayer. St. Teresa of Avila said that whenever she had serious needs, she looked too good St. Joseph, who never let her down. So we follow her example at this critical time. Thank you and God bless.
Podcast: Play in new window | Download (Duration: 1:54 — 1.7MB) | Embed
Subscribe: Google Podcasts | Spotify | Amazon Music | Android | Pandora | iHeartRadio | Stitcher | Podchaser | Podcast Index | Email | TuneIn | RSS | More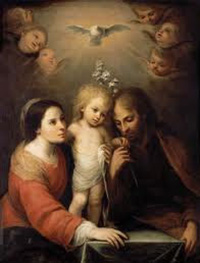 O glorious Saint Joseph,faithful follower of Jesus Christ,
to you we raise our hearts and hands
to implore your powerful intercession
in obtaining from the benign heart of Jesus
all the helps and graces necessary
for our spiritual and temporal welfare,
particularly for the grace of a happy death
and the special favor we now request…
(State your request here.)
O guardian of the Word Incarnate,
we feel animated with confidence that your prayers
in our behalf will be graciously heard before the throne of God.
O glorious St. Joseph,
through the love you bear to Jesus Christ
and for the glory of His name,
hear our prayers
and obtain our petitions.
Amen.
DAY FOUR
Saint Joseph, pride of Heaven,
unfailing hope for our lives,
and support of those on earth,
graciously accept our prayer of praise.
You were appointed spouse of the chaste Virgin
by the Creator of the world.
He willed that you be called "father" of the Word
and serve as agent of our salvation.
May the triune God who bestowed upon you heavenly honors,
be praised forever.
And may He grant us through your merits
the joy of a blessed life
and a favorable answer to our petition.
(State your request here…)
Amen.
Saint Joseph, pray for us!