A Prayer to Gerard Majella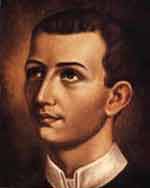 Saint Gerard Majella  April 6, 1726, Muro Lucano, Basilicata – October 16, 1755,  He is the saint whose intercession is requested for children (and unborn children in particular), childbirth, mothers (and expectant mothers in particular), motherhood, falsely accused people, good confessions, lay brothers and just about anyone who desires the comfort of an understanding heart.
When he was born, he was given the name Gerard. He was the son of a tailor who died when Gerard was twelve, leaving the family in poverty. His mother then sent him to her brother so that he could teach Gerard how to sew and help the business. During this time, he was abused by a man whom his uncle sent to help him. He kept silent, but soon his uncle found out and the man who taught him resigned from the job. He loved to be like Jesus Crucified and tried at all costs to suffer. . He joined the Congregation of the Most Holy Redeemer in 1749. When falsely accused by a pregnant woman of being the father of her child, he retreated to silence. She later recanted and cleared him, and thus began his association as patron of all aspects of pregnancy. He was reputed to have bilocation and read consciences. His last will consisted of a small note on the door of his cell saying, "Here the will of God is done, as God wills, and as long as God wills." He died on October 16, 1755 in Caposele of tuberculosis, aged 29.
This very short synposis of his life does not do him justice, for more details of his life and so much more visit the website of the Redemptorists. 
I found the best way to really know St. Gerard is to pray with him.   For a fuller listing of prayers and a novena to St. Gerard visit his Discerning Hearts page
Saint Gerard Prayers  –
For Motherhood
O good Saint Gerard, powerful intercessor before God and Wonderworker of our day, I call upon thee and seek thy aid. Thou who on earth didst always fulfill God's designs, help me to do the holy Will of God. Beseech the Master of Life, from Whom all paternity proceedeth, to render me fruitful in offspring, that I may raise up children to God in this life and heirs to the Kingdom of His Glory in the world to come. Amen.
For Mother with Child
O almighty and Everlasting God Who through the operation of the Holy Christ, didst prepare the body and soul of the glorious Virgin Mary to be a worthy dwelling place of Thy divine Son; and, through the operation of the same Holy Ghost, didst sanctify Saint John the Baptist, while still in his mother's womb; hearken to the prayers of Thy humble servant who implore thee, through the intercession of Saint Gerard, to protect her (me); that it may be cleansed by the saving water of baptism and, after a Christian life on earth, it may with its mother, attain everlasting bliss in Heaven. Amen.
For a Sick Child
O Saint Gerard, who, like the Savior, loved children so tenderly and by your prayers freed many from disease and even from death; graciously look down upon the distressed parents who plead with thee for their child's health if such be the Will, of God. Present their promise to God to bring up the child a good Christian and to guard it by word and example against the fatal leprosy of sin. This favor we implore thee, O sainted Brother, through the tender love with which Jesus and Mary blessed thy own innocent childhood. Amen.
In Time of Trial
O Sainted Brother Gerard, whose heart went out to the unfortunate; who relieved so many poor, healed so many sick, comforted so many afflicted; behold me worried and troubled as I kneel at thy feet. In vain to turn to men to seek consolation and help; therefore, do I have recourse to thee thou who art so powerful in heaven. Graciously assist me, Saint Gerard, that being freed from this trial or strengthened to bear it for the love of God, I may praise and thank God and serve Him with greater love and fervor. Amen.
When in Rome, during the Wednesday audience, we saw them bring out a statue of St. Gerard to be blessed by our Holy Father, Pope Benedict.  Of course, it would be blessed along with an image of Our Lady.  I am sure wherever this statue is now, there are many candles lit requesting this wonderful saints intercession.  May all their prayers be answered.  St. Gerard Majella, pray for us.