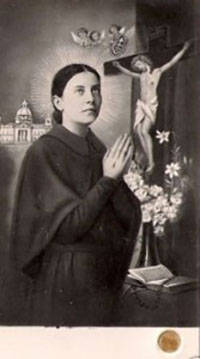 Oh most Divine Lord, we humbly prostrate ourselves before Thy Infinite Majesty, and we adore Thee and dedicate to Thy glory the devout prayers which we now present to Thee, as an act of devotion to your servant, St Gemma Galgani, whose intercession we are now imploring.
 Oh glorious St Gemma, for years you greatly desired to enter the consecrated religious life, but God desired otherwise, telling you after many years that it was not to be, and thereby causing you such great disappointment. Yet, you accepted this great sacrifice and resigned yourself to the will of God. Teach us then, dear St Gemma, to accept the sacrifices and sufferings that God permits in our lives, especially those that are very much against our own will and desires (mention request)…
Our Father, Hail Mary, Glory be…
Pray for us, Saint Gemma, that we may be made worthy of the promises of Christ.
Let us pray. O God, Who fashioned thy servant Saint Gemma into a likeness of Thy Crucified Son, grant us through her intercession the favor that we humbly request, and through the Passion, Death and Resurrection of Thy Son, may we be united with You for all eternity. We ask this through Jesus Christ our Lord. Amen
Original resource for this novena: "St. Gemma Galgani"