Podcast: Play in new window | Download (Duration: 31:01 — 21.4MB) | Embed
Subscribe: Apple Podcasts | Google Podcasts | Spotify | Amazon Music | Android | Pandora | iHeartRadio | JioSaavn | Podchaser | Gaana | Podcast Index | Email | TuneIn | Deezer | Anghami | RSS | More
Enter into the life story of St. Clare's life by listening to one of the best storytellers we know…Sr. Joan Mueller.  Both women are enthralling!!!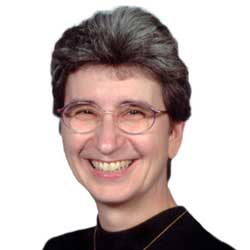 St. Clare of Assisi, the foundress of the Order of Poor Ladies, or Clares, was the first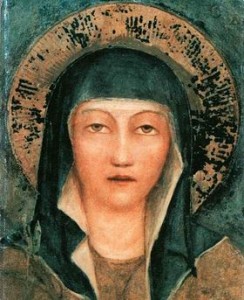 Abbess of San Damiano; born at Assisi, on 16 July 1194; died there on 11 August 1253.
One of the best DVDs we have seen on the life of Clare and Francis is distributed by Ignatius Press.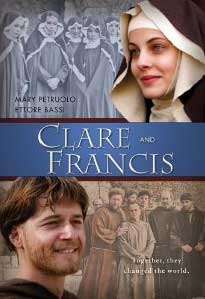 If you'd like to see her life summed up in a quick read, try here.
–
A personal reflection on St. Clare by Kris McGregor:
In 2007, I had a chance to visit Assisi…I just wanted to be near St. Clare.  I didn't plan it, but my hotel ended up being right across the street from St. Clare's Basilica (it seems wrong to call it a street, its width is so small).  Early one morning, I got up and began walking outside of the Basilica.  No one else was out; all the shops closed, and the sun was just coming up.  On a whim, I thought I would see if the church's doors were open (thinking to myself, of course, they wouldn't be), but to my surprise, they were, so I entered.  No one was around.  I saw steps leading down to a lower level.  I stepped over the rope blocking the entrance (boorish American that I am) and walked down.  The path led down to an area with a display of relics, clothing, and other items (I assumed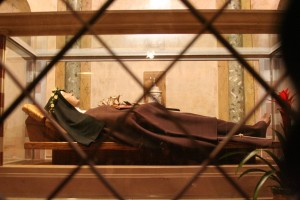 they were Clare's), and then I turned and saw something incredible…the crypt of St. Clare.  I quietly walked over to the enclosure grates.  I knelt and unexpectedly started to weep…I just couldn't help it.  It was so quiet and peaceful; it was such a gift.  I brought to St. Clare all the petitions I held deeply in my heart.  And when that was done, silence once more filled the space. After about 10 minutes, I could hear the sound of the Poor Clare Sisters in the distance chanting their morning office.  I knelt at that spot and listened with St. Clare. After about 30 minutes, I praised God for this special moment and left the basilica.  St. Clare has been with me in a special way ever since a friendship I continue to cherish.  Dear St. Clare, pray for us.