St. Bonaventure Novena Day 7
Podcast: Play in new window | Download (Duration: 2:31 — 5.8MB) | Embed
Subscribe: Google Podcasts | Spotify | Amazon Music | Android | Pandora | iHeartRadio | Stitcher | Podchaser | Podcast Index | Email | TuneIn | RSS | More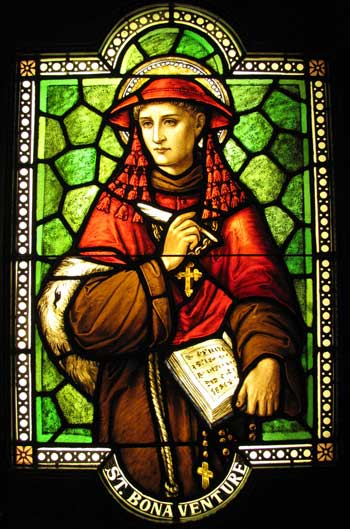 St. Bonaventure you have said:
"Oh, if you could feel in some way the quality and intensity of the fire sent from heaven, the refreshing coolness that accompanied it, the consolation it imparted; if you could realize the great exaltation of the Virgin Mother, the ennobling of the human race, the condescension of the divine majesty; if you could hear the Virgin singing with joy; if you could go with your Lady into the mountain region; if you could see the sweet embrace of the Virgin and the woman who had been sterile and hear the greeting in which the tiny servant recognized his Lord, the herald his Judge and the voice His Word, then I am sure you would sing in sweet tones with the Blessed Virgin that sacred hymn: My soul magnifies the Lord and with the tiny prophet you would exalt, rejoice and adore the marvelous virginal conception."
Dear St. Bonaventure
Cardinal, Bishop and Doctor of the Church,
you chose a life that embraced mortification and great humiliation.
Choosing to serve those individuals who were rejected and sick you risked illness for yourself.
You made your life a continuous prayer and spent hours meditating on the wounds of Christ.
Please pray for us that we may have a sincere and humble heart.
Pray that we may not lose sight of Jesus' wounds and thus walk on the straight path to eternal salvation.
All-powerful Father,
may we who celebrate the feast of St. Bonaventure
always benefit from his wisdom
and follow the example of his love.
Grant this through our Lord Jesus Christ, your Son,
who lives and reigns with you and the Holy Spirit,
one God, for ever and ever.