Podcast: Play in new window | Download (Duration: 2:18 — 2.1MB) | Embed
Subscribe: Google Podcasts | Spotify | Amazon Music | Android | Pandora | iHeartRadio | Stitcher | Podchaser | Podcast Index | Email | TuneIn | RSS | More
Day 8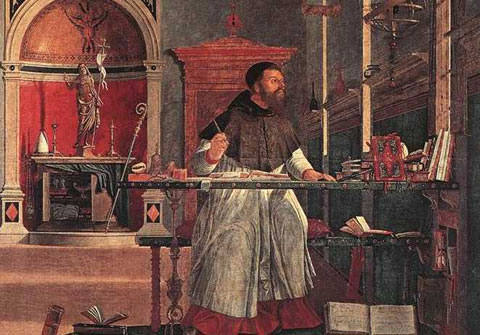 St. Augustine has written:
"I look forward, not to what lies ahead of me in this life and will surely pass away, but to my eternal goal. I am intent upon this one purpose, not distracted by other aims, and with this goal in view I press on, eager for the prize, God's heavenly summons. Then I shall listen to the sound of Your praises and gaze at Your beauty ever present, never future, never past. But now my years are but sighs. You, O Lord, are my only solace. You, my Father, are eternal. But I am divided between time gone by and time to come, and its course is a mystery to me. My thoughts, the intimate life of my soul, are torn this way and that in the havoc of change. And so it will be until I am purified and melted by the fire of Your love and fused into one with You." (from the "Confessions")
Heavenly Father,
we turn to you now with the intentions we hold in our hearts,
as pray as St. Augustine has taught:
Spirit of wisdom and understanding,
enlighten our minds to perceive the mysteries
of the universe in relation to eternity.

Spirit of right judgment and courage,
guide us and make us firm in our baptismal decision
to follow Jesus' way of love.

Spirit of knowledge and reverence,
help us to see the lasting value of justice
and mercy in our everyday dealings with one another.

May we respect life
as we work to solve problems of family and nation,
economy and ecology.

Spirit of God,
spark our faith,
hope and love into new action each day.

Fill our lives with wonder and awe
in your presence which penetrates all creation.
Intercede for us, St. Augustine
That God may favorably hear our plea
And that He may grant us the grace
To accept His will in all things,
Through Jesus Christ, our Lord,
In the unity of the Holy Spirit,
One God forever and ever.
Amen.