Podcast: Play in new window | Download (Duration: 4:26 — 3.2MB) | Embed
Subscribe: Apple Podcasts | Google Podcasts | Spotify | Amazon Music | Android | Pandora | iHeartRadio | JioSaavn | Podchaser | Gaana | Podcast Index | Email | TuneIn | Deezer | Anghami | RSS | More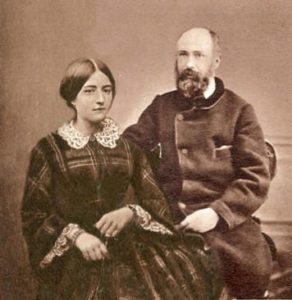 Sts. Louis and Zélie Martin Novena
Day 9 – The Desire for Heaven
«But our citizenship is in heaven, and from it we also await a savior, the Lord Jesus Christ. He will change our lowly body to conform with His glorified body.» Philippians 3:20-21
Meditation
The Martins always yearned for Heaven. Every moment of their life was oriented toward this ultimate goal. St. Thérèse speaks of Heaven « to which all their actions and desires were directed. »
This was the golden rule in the education of their children, as St. Zélie testified in one of her letters. « When we had our children … we lived only for them. That was all our happiness … so I wanted to have a lot of them in order to raise them for Heaven. »
St. Louis once said to two of his daughters, « Yes, I have a goal, and my goal is to love God with all my heart. »
As for St. Zélie, she often expressed her desire to be a saint, to go to Heaven: « My mind no longer inhabits the earth. It's traveling among higher spheres. » « True happiness is not of this world. We waste our time looking for it here. » « The world is not our true home. »
Resolution
Today, I will offer God my whole past, and I will live completely in the present, full of trust and hope, because that is the way to achieve the goal of my life—to reach Heaven.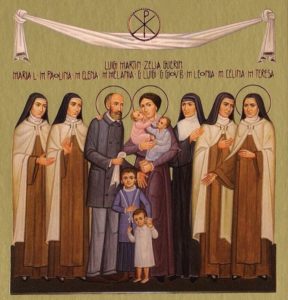 Prayer
Our Father…
Hail Mary…
Glory be to
Saints Louis and Zélie,
you who in your life as a couple and as parents
have given witness of an exemplary Christian life,
in putting God in the first place
through the exercise of the duties of your state in life
and the practice of the virtues of the gospel,
we turn to you.
Help us to have unshakable confidence in God
and to surrender ourselves to His Will,
as you did in the joys
but also in the trials, the sorrows, and the sufferings
with which your life was marked.
Help us to love God with all our heart,
to persevere in our daily difficulties,
and to dwell in the joy and hope
that will give us a living faith in Christ.
Intercede for us
so that we may obtain the graces we need
today and all the days of our life. Amen.
Saints Louis and Zélie, pray for us.
Imprimatur +Jacques Habert, Bishop of Séez, 26 May 2016

---
For more on the life of Sts. Louis and Zelie Martin visit: