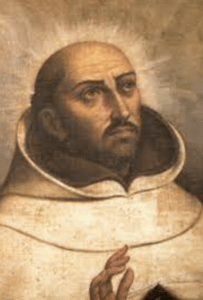 Podcast: Play in new window | Download (Duration: 2:24 — 1.8MB) | Embed
Subscribe: Google Podcasts | Spotify | Amazon Music | Android | Pandora | iHeartRadio | Stitcher | Podchaser | Podcast Index | Email | TuneIn | RSS | More
Day 8 – St. John of the Cross Contemplative Novena – Discerning Hearts Catholic Podcast
St. John of the Cross you have said:
Even as vapours darken the air and allow not the bright sun to shine; or as a mirror that is clouded over cannot receive within itself a clear image; or as water defiled by mud reflects not the visage of one that looks therein; even so tDay 8 in the understanding and allows neither the sun of natural reason nor that of the supernatural Wisdom of God to shine upon it and illumine it clearly.
Ascent of Mount Carmel. Trans. E. Allison Peers, Book 1, Chapter 8, Paragraph 1 St. 
Prayer for Peace from St. John of the Cross
O Blessed Jesus, grant me stillness of soul in You. Let Your mighty calmness reign in me. Rule me, O King of gentleness, King of peace. Give me control, control over my words, thoughts and actions. From all irritability, want of meekness, want of gentleness, O dear Lord, deliver me. By Your own deep patience give me patience, stillness of soul in You. Make me in this, and in all, more and more like You. Amen.
Lord God, you gave Saint John of the Cross
the grace of complete self-denial
and an ardent love for the cross of Christ.
Grant that by following always in his footsteps
we may come to the eternal vision of your glory.
And through his intercession, if it be in accord with your holy will,
Grant the petition we bring before you in this novena.
We ask this through our Lord Jesus Christ, your Son,
who lives and reigns with you in the unity of the Holy Spirit,
God, for ever and ever.
Amen
---
For more on St. John of the Cross, visit St. John of the Cross: of Contemplation with Fr. Donald Haggerty