Episode 2 Salvation Begins Now: Last Things First –  What is  Death?  Why do we fail to contemplate it's truth…why do we fear it?  What is Purgatory?  Why is there a need for final purgation?
Podcast: Play in new window | Download (Duration: 28:57 — 26.5MB) | Embed

Subscribe: Apple Podcasts | Android | Email | Google Podcasts | Stitcher | TuneIn | Spotify | RSS | More
From the Catechism of the Catholic Church:
1030 All who die in God's grace and friendship, but still imperfectly purified, are indeed assured of their eternal salvation; but after death they undergo purification, so as to achieve the holiness necessary to enter the joy of heaven
Deacon James Keating, PhD, the director of Theological Formation for the Institute for Priestly Formation, located at Creighton University, in Omaha.
For more information on the "Institute of Priestly Formation" and for other material available by Deacon Keating, just click here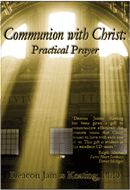 Don't forget to pickup a copy of "Communion with Christ" , it is one of the best audio sets on prayer…ever!