Podcast: Play in new window | Download (Duration: 29:03 — 26.6MB) | Embed
Subscribe: Apple Podcasts | Google Podcasts | Spotify | Amazon Music | Android | Pandora | iHeartRadio | JioSaavn | Podchaser | Gaana | Podcast Index | Email | TuneIn | Deezer | Anghami | RSS | More
Beginning to Pray: "The Last Retreat – Day 10 pt 1 " – "Be perfect as your heavenly Father is perfect."
From "Last Retreat Day 10 pt 1" found in The Complete Works vol 1:
25. "Be perfect as your heavenly Father is perfect." 145 When my Master makes me understand these words in the depths of my soul, it seems to me that He is asking me to live like the Father "in an eternal present," "with no before, no after," but wholly in the unity of my being in this "eternal now." 146 What is this present? This is what David tells me: "They will adore Him always because of Himself."

147 This is the eternal present in which Laudem Gloriae must be established. But for her to be truly in this attitude of adoration, so that she can sing, "I will awake the dawn," 148 she must also be able to say with St. Paul, "For love of Him I have forfeited everything"; 149 that is: because of Him, that I may adore Him always, I am "alone, set apart, stripped" of all things, both with regard to the natural as well as the supernatural gifts of God. For a soul that is not thus "destroyed and freed" 150 from self will of necessity be trivial and natural at certain moments, and that is not worthy of a daughter of God, a spouse of Christ, a temple of the Holy Spirit. To guard against this natural life the soul must be wholly vigilant in her faith151 with her gaze turned towards the Master. Then she "can walk," as the royal prophet sings, "in the integrity of her heart within her house." 152 Then she "will adore her God always because of Himself" and will live, like Him, in that eternal present where He lives. . . .

Elizabeth of the Trinity (2014-07-24). Elizabeth of the Trinity Complete Works, Volume I: I Have Found God, General Introduction and Major Spiritual Writings (Kindle Locations 3374-3391). ICS Publications. Kindle Edition.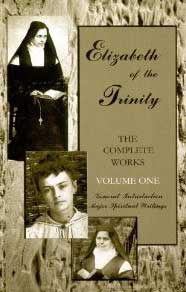 This the text we are using to discuss "Heaven in Faith" you can find it here and order from the Carmelite Sisters
We would like to offer heartfelt thanks to
Miriam Gutierrez for providing for us "the voice" of Blessed Elizabeth for this series
Anthony Lilles, S.T.D. is an associate professor and the academic dean of Saint John's Seminary in Camarillo as well as the academic advisor for Juan Diego House of Priestly Formation for the Archdiocese of Los Angeles. For over twenty years he served the Church in Northern Colorado where he joined and eventually served as dean of the founding faculty of Saint John Vianney Theological Seminary in Denver. Through the years, clergy, seminarians, religious and lay faithful have benefited from his lectures and retreat conferences on the Carmelite Doctors of the Church and the writings of Blessed Elisabeth of the Trinity. After graduating from Franciscan University of Steubenville, he completed licentiate and doctoral studies in spiritual theology at the Angelicum in Rome. In 2012, he published Hidden Mountain, Secret Garden: a theological contemplation of prayer by Discerning Hearts. Married with two young adult children pursuing their careers and a teenager still at home, he has settled in family in Oxnard, California.