Podcast: Play in new window | Download (Duration: 24:24 — 16.8MB) | Embed
Subscribe: Apple Podcasts | Google Podcasts | Spotify | Amazon Music | Android | Pandora | iHeartRadio | Stitcher | JioSaavn | Podchaser | Gaana | Podcast Index | Email | TuneIn | Deezer | Anghami | RSS | More
In this episode, Dr. Lilles discusses the Sixth Mansions Chapter 1 part 2 of the "Interior Castle" which covers:
THIS CHAPTER SHOWS HOW, WHEN GOD BESTOWS GREATER FAVOURS ON THE SOUL, IT SUFFERS MORE SEVERE AFFLICTIONS. SOME OF THE LATTER ARE DESCRIBED AND DIRECTIONS HOW TO BEAR THEM GIVEN TO THE DWELLERS IN THIS MANSION. THIS CHAPTER IS USEFUL FOR THOSE SUFFERING INTERIOR TRIALS
1. Love kindled by divine favours. 2. Our Lord excites the soul's longings. 3. Courage needed toreach the last mansions. 4. Trials accompanying divine favours. 5. Outcry raised against souls striving for perfection. 6. St. Teresa's personal experience of this. 7. Praise distasteful to an enlightened soul. 8. This changes to indifference. 9. Humility of such souls. 10. Their zeal for God's glory. 11. Perfect and final indifference to praise or blame. 12. Love of enemies. 13. Bodily sufferings. 14. St. Teresa's physical ills. 15. A timorous confessor. 16. Anxiety on account of past sins. 17. Fears and aridity. 18. Scruples and fears raised by the devil. 19. Bewilderment of the soul. 20. God alone relieves these troubles. 21. Human weakness. 22. Earthly consolations are of no avail. 23. Prayer gives no  comfort at such a time. 24. Remedies for these interior trials. 25. Trials caused by the devil. 26. Other afflictions. 27. Preparatory to entering the seventh mansions.
For the Discerning Hearts audio recording of the "Interior Castle" by St. Teresa of Avila  you can visit here
---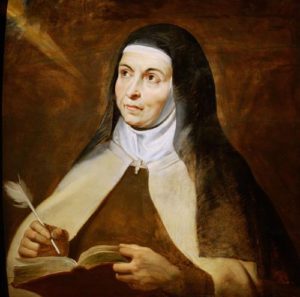 For other audio recordings of various spiritual classics you can visit the Discerning Hearts Spiritual Classics page
For other episodes in the series visit
The Discerning Hearts "The Interior Castle with Dr. Anthony Lilles"
Anthony Lilles, S.T.D. is an associate professor and the academic dean of Saint John's Seminary in Camarillo as well as the academic advisor for Juan Diego House of Priestly Formation for the Archdiocese of Los Angeles. For over twenty years he served the Church in Northern Colorado where he joined and eventually served as dean of the founding faculty of Saint John Vianney Theological Seminary in Denver. Through the years, clergy, seminarians, religious and lay faithful have benefited from his lectures and retreat conferences on the Carmelite Doctors of the Church and the writings of St. Elisabeth of the Trinity.