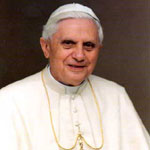 VATICAN CITY, 30 NOV 2011 (VIS) – This morning's general audience was celebrated in the Paul VI Hall in the presence of 5,500 faithful. Having recently completed a series of catecheses dedicated to prayer in the Old Testament, the Pope today began a new cycle on the subject of the prayer of Christ which, he said, was "like a hidden canal irrigating His life, relationships and actions, and guiding Him with increasing firmness to the total gift of self, in keeping with the loving plan of God the Father".

One particularly significant moment of prayer followed the Baptism of Jesus in the Jordan. This, the Pope noted, poses a query as to why Jesus, Who was without sin, should have chosen to submit Himself to John's Baptism of penance and conversion. John the Baptist himself raised the question, saying "I need to be baptised by you, and do you come to me?". The Holy Father explained how "by emerging Himself in the Jordan River, Jesus … expressed His solidarity with people who recognise their sins, who chose to repent and change their lives. He helps us to understand that being part of the people of God means entering into a new life, a life in conformity with God. By this gesture Jesus anticipated the cross, beginning His active life by taking the place of sinners, bearing the weight of the sin of all humankind on His shoulders".

By praying after His Baptism, Jesus demonstrates His intimate bond with the Father, "experiencing His paternity and apprehending the demanding beauty of His love. Speaking to God, Jesus receives confirmation of His mission", with the words that resound from on high: "This is my son, the Beloved" and with the descent of the Holy Spirit upon Him. "Through prayer", the Pope said, "Jesus lives in uninterrupted contact with the Father in order to achieve His project of love for mankind". It is in this profound union with the Father that Jesus made the move for the hidden life of Nazareth to His public ministry.