Podcast: Play in new window | Download (Duration: 28:58 — 26.5MB) | Embed
Subscribe: Apple Podcasts | Android | Email | Google Play | Stitcher | TuneIn | RSS | More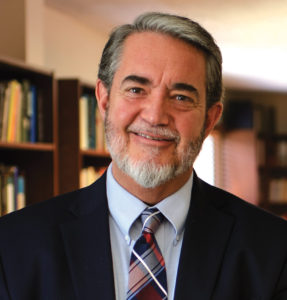 What a delight to be joined once again by Dr. Scott Hahn to share in a conversation about the delicious meal contained in our Sacred Scriptures. In "Consuming the Word: The New Testament and the Eucharist in the Early Church", Dr. Hahn helps us to make an important paradigm shift in our contemplation of the Word of God. Not just words transmitted in the pages of a book,  The Word is meant to be seen as an action of Love. That action is best related in the gift of the Eucharist. St. John Paul II asked Catholics to "base the New Evangelization on the Eucharist". As Catholics, we know Christ as the Eucharistic Lord and that is how the early Church proclaimed him. Dr. Hahn reminds us that in the early Church there was no book that could be called the "New Testament". That phrase was used to describe the Mass. Dr. Hahn will also go on to warn us of the dangers found in  "intellectualizing the Bible, by recalling for us what St. Paul has said, "Knowledge puffs up, love builds up… It's not love instead of knowledge, but knowledge ordered to love, because you can't love what you do not know, but you can know and not love". What an outstanding book, yet again, brought to us by Dr.Scott Hahn!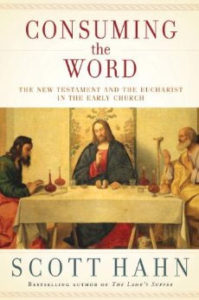 You can find the book here
"Scott Hahn has a well-earned reputation as a vivid guide to the Word of God.  That skill is elegantly on display here. Consuming the Word is erudite and accessible, rich in content and lucid in style — an engaging read for anyone who seeks to better understand the profound interplay of Scripture, Liturgy and the role of the Church in Christian life." Most Reverend Charles J. Chaput, O.F.M. Cap., Archbishop of Philadelphia

"With words that are both accessible and erudite, Dr. Scott Hahn introduces us anew to the Eternal Word of the New Testament, a word that is given to us, not simply as a text in a book, but as the living and real presence of the Lord Jesus himself." Very Reverend Robert Barron, author of Catholicism: A Journey to the Heart of the Faith
This work is licensed under a Creative Commons Attribution-NonCommercial-NoDerivatives 4.0 International License.