Michael Novak is a shining witness of what occurs in the soul when the head makes the journey to the heart.  What a gift he is to all of us and what a profound sage of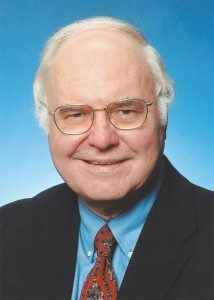 wisdom…when he so gently speaks, I listen….we all should!  In "Living the Call: An Introduction to the Lay Vocation," Michael, along with his co-author William E. Simon, Jr, establishes, in Part 1, of the book, the need for the lay vocation in the Church today.  They chronicle that need with a national and global perspective.  They also present how "living the call"  looks in the lives of nine committed lay faithful working in parish life today.
Part 2 is worth its weight in gold! It outlines the absolute necessity of growth in the interior life of the laity.  How essential it is to deepen the spiritual life.  They give voice to the need to appreciate the desert experiences of our lives as opportunities for greater unity with Christ; such periods provide the fonts of grace which nurtures the work in ministry.   For anyone who severs in a ministry of any kind, either as an employee or as a volunteer, if you pass this indispensable book by, you do so at your peril!
Podcast: Play in new window | Download (Duration: 29:15 — 26.8MB) | Embed
Subscribe: Apple Podcasts | Android | Email | Google Play | Stitcher | TuneIn | RSS | More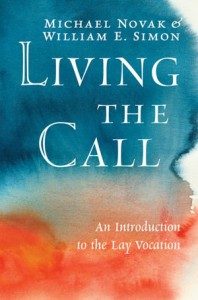 Michael Novak's website can be found here
 You can find "Living the Call" here
"This is the book that countless Catholic laypeople have been waiting for as they ponder how to respond to Vatican II's challenge to take more active roles in the life of the Church and to bring Christian principles to life in the secular world. It's a gem of a book that speaks to laypeople in all walks of life and at all stages of their earthly journeys."
Mary Ann Glendon, Learned Hand Professor of Law, Harvard University
This work is licensed under a Creative Commons Attribution-NonCommercial-NoDerivatives 4.0 International License.